Safety inspection checklist points for chemical plant – chemical processing unit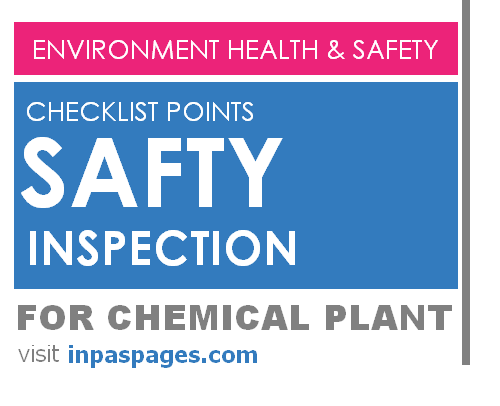 Is there any material lying on floor in side or outside of gangway at Inspection area?

Is the floor clean and Non slippery? Is the area is without Oil, acid fumes, and chemical vapor.  Etc.?

Do people wear appropriate PPE's – Personal Protective Equipment like safety gum shoes, nose Mask, Hand gloves etc… During inspection?

Is there any leakage / spillage of water, chemical, oil from machine / Tank? Is there any arrangement to prevent leakage permanently?

Is there any rotating equipment or any rotating things are without safety guard in machining area / within chemical unit premises?

Is there any damage of Electrical appliances founding during walking inspection at around chemical processing plant?

Is there any loose wire or open connections at chemical processing plant?

Is there any leakage of oil / coolant on floor in a stored condition?

Existing chemicals are stored systematically as directed in M.S.D.S. [Material Safety Data Sheet] & identified with optimum qty and identification?

Hazardous chemicals are stored separately with handling instruction or not?

Instructions to deal with potential Departmental Hazard exists?

Is Handling & disposal of Hazardous waste given to Authorized person?

Is stamping & verification carried out for standard weights / Electronic weigh machines once in a year? Is there any evidence?

Flow charts exist for all activities done in dept?  Work instruction exists for all an activities indicated in flow chart?

Whether work instructions are followed? Indicated Parameters are followed as per work instructions? Records of Parameters are available? Reaction plan / actions are taken for none conforming are evident?

Is there any safety instructions for all chemical processes as per flow diagram are available and recorded?  Are they followed?  If followed, is it evident?

Is all safety instruction are in line with M.S.D.S. [Material Safety Data Sheet]? Whether M.S.D.S. [Material Safety Data Sheet] available for all chemicals / Reagents used for process and Testing?

Safety equipment / Devices provided are in working condition and working effectively?

Is the hazardous wastes are from processing is properly packed in PVC bags and stacked in the room provided?

Is proper and appropriate records of Hazardous waste generated and disposed off are maintained?

Is stack emission check up are carried out as per its defined frequency and methods? Is it inline with Norms laid down in Consent?

Is there leakage of water or steam from any lines?

Is the condition of Ropes / slings / wires is satisfactory – Not too old OR damaged OR worn out? Are they periodically and jointly inspected with Maintenance Dept. ? or external agency?

Is Hoist, fork life, over head cranes or Lifts Examined once in last 6 months? Evidence?

Are the Hot Water generator / Boiler / Pressure vessels checked and tested periodically? Evidences of same and with Next due date.

Is Lab is with sufficient illumination and Ventilation? Does it provide safe atmosphere for chemical testing? Walls & roof having damage?

Does the procedure for Testing Exists? Displayed? Controlled and Updated?

Are the Results of Testing Recorded? Is the Records are kept accessible to all concerned?

Is the list of Chemical Reagents available with its shelf life?

Are Standard operating procedures available for all Chemical Processes? Does Standard operating procedures exists for Preparation, Monitoring and discardation of Chemical / oil bath? Does Standard operating procedure indicate personal protective equipments required for particular testing?

IS Chemical wastage / solutions after testing are treated at emission treatment plant?

Is M.S.D.S. (Material Safety Data Sheet) available for Chemical Reagents?

Are Instruments/ Devices for Testing and analysis calibrated periodically? Records of same are evident?

Is the list of Testing facility, its accuracy, capacity, make available and displayed?

Any unsafe activity or unsafe situation can be a cause for aspect or hazards – identify during the visit, make a list of the found in case.
Related Topics: