Safety inspection checklist points for Ladder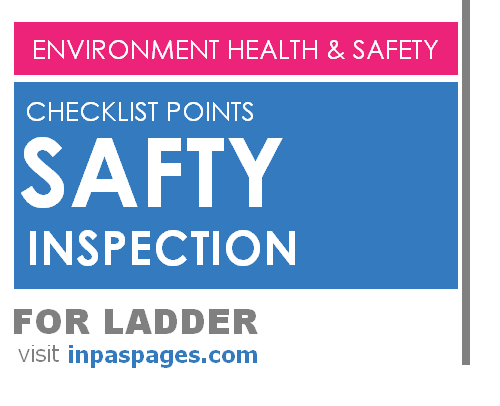 Steps are properly set of the ladder?

Ladder users are properly trained for the used of?

Top to bottom ladder is clean?

Ladder should be used at clean, flat and solid surface, peoples are follows it?

Is there any working instruction is prepared for ladder used? Peoples follow instruction?

All the steps of ladders' are with same measurement? Any step is big or small found?

Check there is any oil or grease on the steps of ladder?

Stopper & locks of ladder is properly closed / open? It should be smooth without damage of any case?

On the ladders' lag having any damage? It is of wooden? Or steel / aluminum? Please mention?

Is there ladder free from corrosion, if metal ladder used?

At the legs of ladders' having any cover at bottom side? Or any supportive bushes are fixed?

On the ladder having a platform?
Precautions of use of ladder:
Avoid Metal ladder to use if around electrical wires and power lines.

Take care of over head crane (Material hoist – Steel / Aluminium) Height, Don't put ladder on same or up height at level of hoist.

Ladder steps should be comfort for peoples who used regular or trained for works on ladder & height
Related Topics: