Workplace inspection checklist
An organization follows the international quality system or environment management system that workplace inspection are very important step to quality, health and safety concern, the productivities of the machine and human are possible when the working environment is very healthy to fill comfort during the time of working at workplace. This is very necessary requirement if the organization understand minor requirements & take necessary action for the eliminate possibilities of disconcert working environment.
As same way the health and safety requirement for the employee health and safety are taken on priority at workplace to secure working environment provided, here the workplace inspection checklist is given to understand the basic requirement of the format and fill up the format to secure by take the necessary action on the identified hazard in working area. Identification of hazard and its impacts are very important to implementation of the controls for the eliminations.
There are actually some hazard coding are given for understand the identified hazard impact and its severity on base of the control measure are deployed to minimize risk in workplace. Some example of the hazard coding given as below:
FETAL: – The parameters of the hazard/risk are comparatively high and combined in a manner that causes, or could result in death, permanent total disability, or irreversible damage that violates law or regulation
MAJOR: – The parameters of the hazard/risk exist at a level that does or will result in permanent partial disability, injuries or occupational illness that may result in hospitalization of at least three personnel, or reversible damage causing a violation of law or regulation.
MODERATE: – The parameters of the hazard/risk all exist at recognizable levels and are / can result in injury or occupational illness resulting in one or more lost work days, or damage without violation of law or regulation where restoration activities can be accomplished
MINOR: – Some of the parameters exist at recognizable levels and are (can) result in injury or illness not resulting in a lost work day or not violating law or regulation.  The effect of such change is easily recoverable or self recovering, and there is no lasting
On base of the hazard classifications, hazard identification are done and priority of the actions are decided same. The hazard classification and its identification are depends on the activities are done in the process and its activities are taken at place, reason is the identified hazards are raised on base of the activities, there are also consider the requirement of the occurrence in the activities born the hazards.
For the identification of the hazards and controlling requirements are done on base of the its severity and occurrence, both are calculated and check the risk priority, these risk priority help to implement control measures for minimize risk within department level, this requirement are full filled by the following fields in the format given as sample:
Item / Location
Description of hazard
Hazard coding
Recommended action
By who (name of the responsible person)
Target date
Actions
Date completed
See picture below for full concept: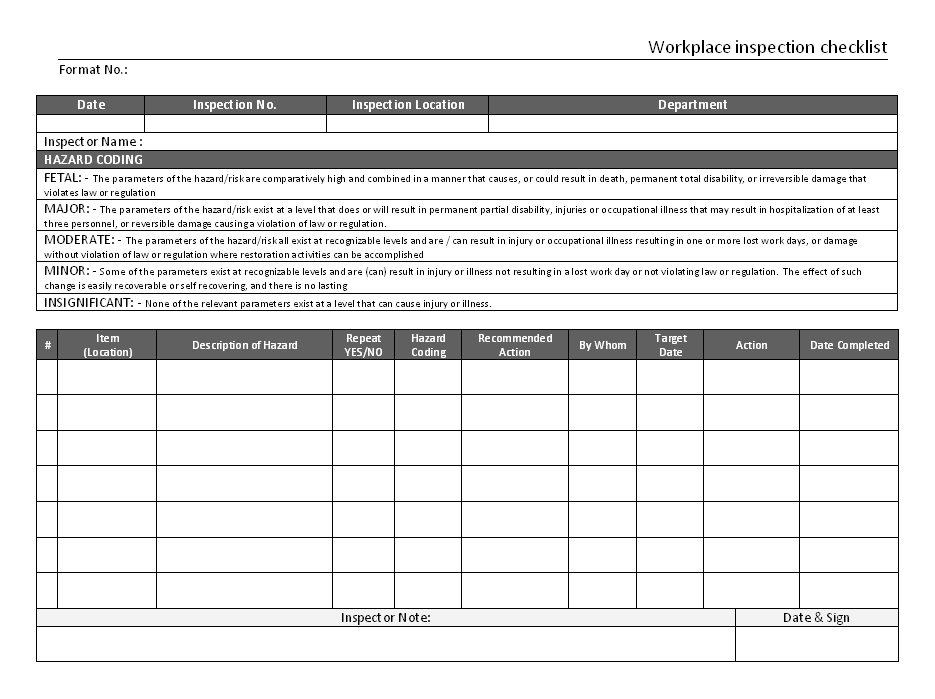 EXAMPLES, SAMPLES & FORMATS
You would also like to read: