Internal audit follow-up checklist is systematic check points for verify process, effectiveness, and timeliness of actions are taken. This checklist may verify the each actions details with specific observations and its related information.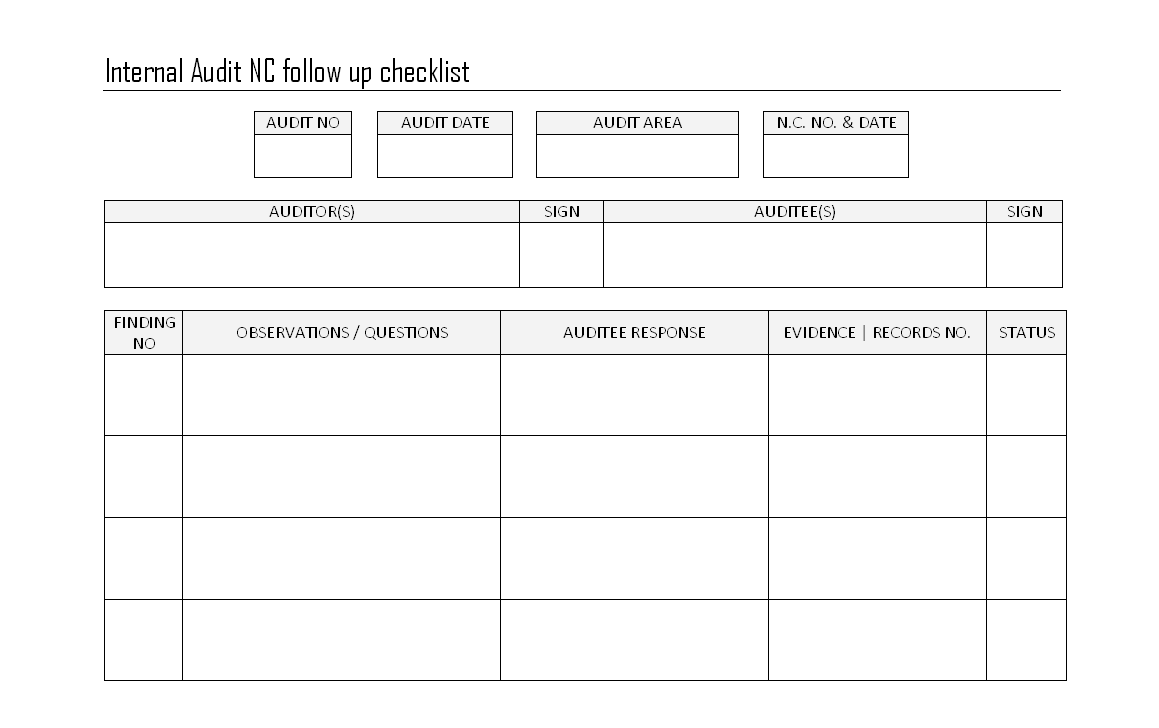 Overview to checklist
Internal audit non-conformity is coming from internal audit, once nonconformity is identify and record / document, next processing of the nonconformity report and its corrective action request are raise in line with department, locations and level of nonconformity. On base of the nonconformity concern / responsible personnel are investigate and identify cause of the problem, and corrective action will be fully implement and document all the follow up checklist points will be close in line with actions conduct.
 How to follow up checklist
When the auditors are performing internal audit for any internal management system that require all the non-conformity and finding records are comply by Auditee soon as possible, when any Auditee conform that all non-conformity are comply that all the finding are verify by auditors to close all raise non conformity.
For the internal audit non conformity follow up checklist, here as below given example format as below:
Unique audit Numbers
Date of audit
Audit Area
Non conformity number and date
Auditors name & signature / Auditee name and signature
Findings number
Observations and questions
Auditee response / answers
Evidence & Records numbers
Status
Internal audit Non-conformity follow up process is conduct by internal qualified audit team, which the findings from the internal audit shall be follow up on during the locations next internal audit, and it's the responsibility of the auditor to ensure all findings from the locations on previous audit are follow up on using the above picture describe, and on base of this checklist close / reopen are maintain.
Outputs from Checklist
This checklist outputs are use for the regular / management meeting for the discussion of raise non-conformity during internal audit by management representative, should report the audit finding. An audit should close out when all corrective actions and improvement points are follow up on and same the checklist points will be close in line with action conduct by department against non-conformity identify in checklist.
EXAMPLES, SAMPLES & FORMATS: Download
Related: