A induction checklist is an initial training for new join employee. Normally induction checklist may also use, when any system or process change, improvement or new system development in organization.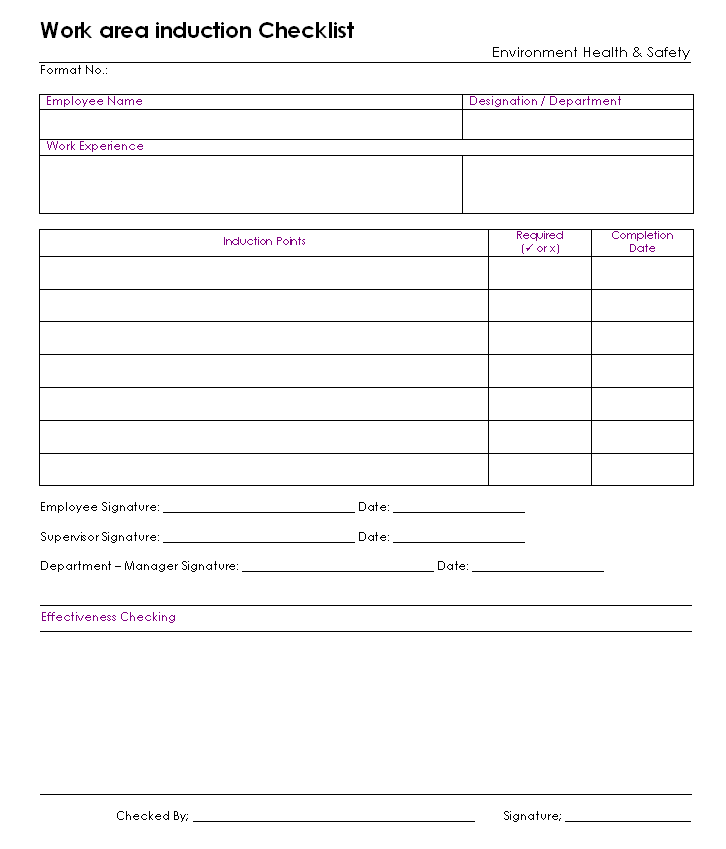 Overview to Induction Checklist
Workplace induction is an initial training for new join employee, system change, enhancement in system or new system development.
Work area induction are generally provided by supervisors, department head or in charge of the work areas to employee. In case new joined on duty, in work area induction can be regular operating systems, materials and process knowledge and material flow etc.. Information is share with employee. This can also on job training to provides knowledge to employees about manufacturing, process.
 When Use induction checklist?
Work area induction also conduct in case of the new machinery or manufacturing process change or any internal system being orientation in department. But the main motive are same of the work area induction, share, training to employees. For the keep basic concept of the work area induction. Mostly departments are prepare checklist to provide training, information to peoples whose required. This checklist called workplace induction checklist that all the required points are incorporate in it.
Work area induction checklist is ready format, that helpful for the induction training to employees. In these checklists are prepared on base of the requirements or also possible to make separately like some companies are making the work area induction to only consider environment health and safety concern points and induction training requirements, there are also possible if companies does not required orientation training format separate that include all the points in single format.
When do you provide induction a new employee?
When a new employee reports to work, he / she shall be first introduced to the Head of the Department.
The Head of Department shall be responsible to welcome and provide an orientation on the job requirements for a period of 3 days.
On completion of the third day, the new employee shall be introduce to the Human Resource Manager for orientation on general work practices.
Employee Handbook
It is always recommends to provide handbook to all new join employees. normally human resources department arrange the 'Employee Handbook'. The handbook may consist of the following:
a) Introduction to the Company
b) Policy Statements
c) Organization Structure
d) General rules and regulations
e) Dress code
EXAMPLES, SAMPLES & FORMATS: Download