Internal Audit Checklist for Top management
An internal audit checklist is key document for an internal audit of the organization. Its describes point wise information of all the internal and external standards requirements in these document. Hence any organization can easily validate its internal system through use to identify compliance with standards and procedures.
Overview to internal audit checklist
An internal audit measures an organization's compliance with external and internal standards. Internal audit checklist narrates the information of those standards' requirements in a document. Actually, this document is preparing on based of identified clauses from standards which is applicable to organization, and those points are uses in the document. These document will help to uphold organization's internal system is properly follow standards.
Management Audit
The management audit is arranging for verify organization's structure and strategic plans. Generally, the auditors are review key performance indicators, policies, business plant, goals and objectives etc., which are visual framework of management. Here as blow, you can fine some important point which will help to audit of top management.
Checklist for internal audit of top management – Example points
A. Does the Top Management provide evidence of its commitment to the development and implementation of the quality management system for the following?
Communicating customer requirement (Including statutory & regulatory requirement)
Establishing the quality policy.
Auditor has to ensure the quality objectives are properly defines key performances.
Conducting management review.
Ensuring availability of resources.
B) Does the quality policy reviewed periodically for continuing suitability?
C) Does Top Management ensure that the integrity of QMS is maintained when changes are planned & implemented?
D) Does the role responsibility & authority are clearly defined & communicated within the company?
E) Does Top Management review QMS at planned intervals to ensure adequacy and effectiveness?
F) Auditor will audit the concept of continual improvement, it should be realized within the organization.
G) List out the future plan from top management
Increase productivity
Improve quality
Develop new product
Human resources
Infrastructure
Work Environment
Internal audit checklist template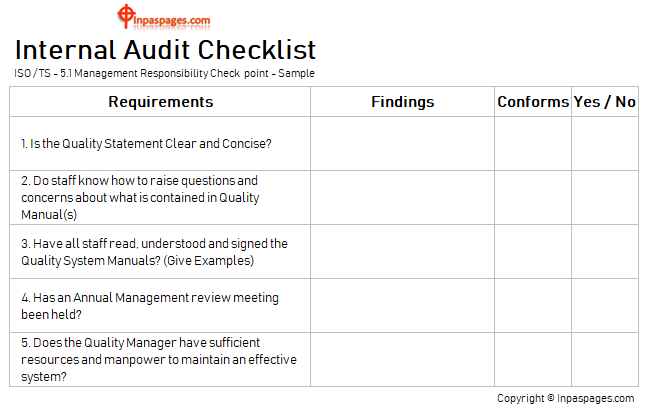 The purpose of the internal audit checklist is to provide easier way to prepare and conduct the audit. It will also help to auditee to prepare its departmental system accurate. The internal audit checklist is not just auditor's tool, its defines the transparency of organization's internal system and audit.