QMS : internal audit report General Questionnaire /Internal Audit Checklist for Purchase / Store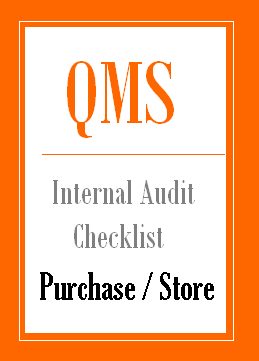 How are material requirements determined?

Are minimum stock levels determined for critical items?  Are those maintained? Are Purchase requirements determined accordingly?

Is list of acceptable suppliers maintained?

Are purchases done from any of these acceptable sources?

Does the P.O mentions technical/commercial requirements including inspection/ test requirements?

Are critical item suppliers monitored for quality & delivery performance?

 Is supplier development plan in place? How is it implemented?

Does supplier performance monitoring consider all aspects of TS 16949?

Is sufficient storage place provided in stores?

Is FIFO followed? How?

Is periodic stock verification evident?

Are inventory levels monitored? Are efforts taken to control / minimise inventory levels?

Are tools preserved properly ensuring identification?
Related Topics: