Job responsibility & Authority formats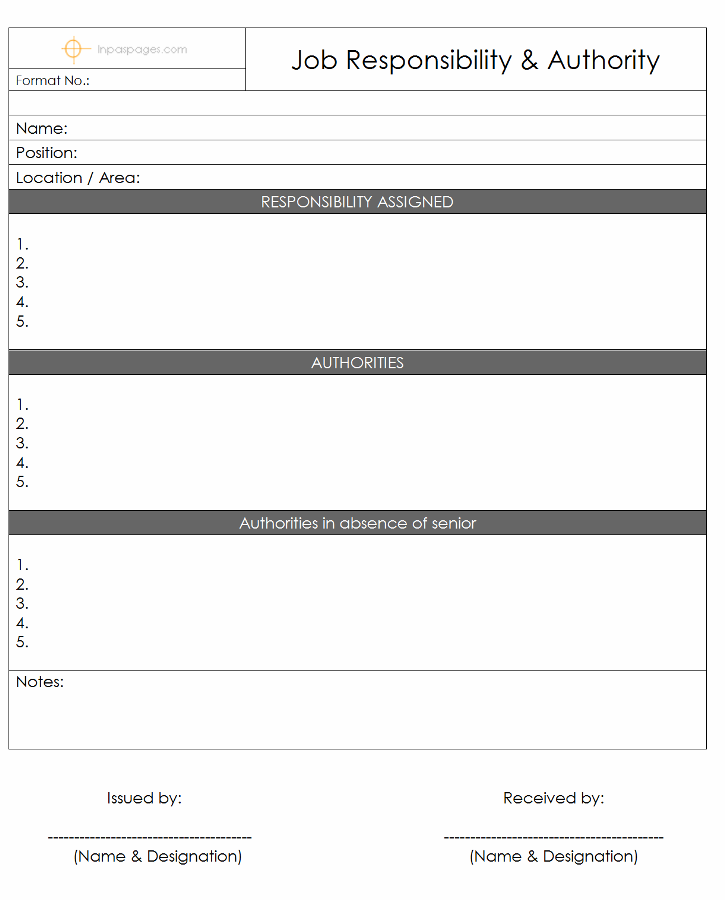 When the management appoints any person or change duties that Human Resource department / Personal Department being active to reflects are capture in line with management assigned duties to any person, Human resource department are communicate with department head or the management authority for the changes or modifications are reflects in duties and authority.
Job Responsibility & Authority format is human resource department owned that each appointed person are noted all job responsibility & authority in line with. This is very important document for the person who is execute works in line with defined job duties & authority.
Copy of the job responsibility & authorities are given to person & same will be records to human resource department. For this important document's ready made format is available for the download, this document you can edit, modify, add & remove fields as your company requirements.
———————————– Download  ———————————–
Download Job Responsibility & Authority Format in Word Document format
Job Responsibility & Authority Examples | Job Responsibility & Authority Samples | Job Responsibility & Authority Description | Job Responsibility & Authority Template | Job Responsibility & Authority reports | Human Resource Formats
———————————– Download  ———————————–
 Related Topics: