Job post change application
Generally, in organization where people can possible that dissatisfy with its works that job satisfaction, organization are gives the format to apply for job post change in internal change of posting for the employee job satisfaction.
This format is very important, as individually and for company too, when any employee are not satisfied with it work that not possible to perform task hundred percent, due to unlike behavior company are not take benefit from employee unused skilled that possible are perform well at other fields. Due to this serious condition organization are free to talk about the subject if the employee are agree to talk its self condition at working environment.
Job post change application is very simple for fill up, employee basic all information are filled with desire area and post are filled in application to human resource department are talk / interview to employee for understand its qualification in that field where applied for by employee, during the interview, interviewers are satisfied with answer of employee, human resource department are transfer employee at desire location to both side joyful environment.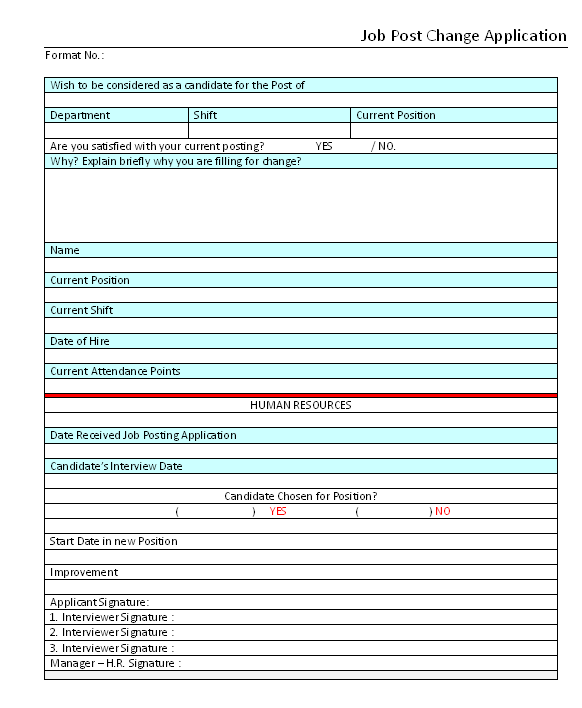 EXAMPLES, SAMPLES & FORMATS
You would also like to read:
| PERFORMANCE EVALUATION FORM : HUMAN RESOURCE | INDIVIDUAL TRAINING RECORD | INDIVIDUAL TRAINING RECORD | TRAINING NEEDS ANALYSIS | ANNUAL TRAINING CALENDAR | COMPETENCE EVALUATION OF WORKMEN | BUDGET OF TRAINING PROGRAM / TIME (HOURS) | EMPLOYEE HISTORY CARD | COMPETENCY CHART | SKILL MATRIX |