Kaizen action plan template
Kaizen action plan template is standard template for defines the information of action plan for kaizen improvement phase. Kaizen action plan templates includes 5 W (Why, when, who, where, what) & H (How).
How to do Plan for Kaizen – Action Plan
The Kaizen Plan segment is cover all activities to achieve goal to meet result as targeted as per plan, Measurements, Analysis & improvement with bounded target time line.
Purpose of planning – kaizen planner must know that on which path they have to run to improve on current segments. How to use resources, how to plan of workmen to consider time depend on basic purpose of kaizen improvement.
Format selection to develop a plan for each kaizen sets for actions & its plans.
Remember that, Kaizen action plan must include following:
Rejects and defects improvement plan
Manpower management – effective resources is key requirements.
Techniques and methods for improvement
Time – define the time for particular task improvement
Materials and production volume
Safety requirements
Kaizen plan process:
The starting point of any improvement is to recognize the need of change. It comes from recognizing a problem which comes from individual eye-capability to see what is not right.
Selection of Team members.
Co-ordinate with Accounting peoples that help to identify cost
Target locations, target areas & equipment for kaizen
Distribute responsibility to collect data for analysis.
Kaizen Action Plan Template: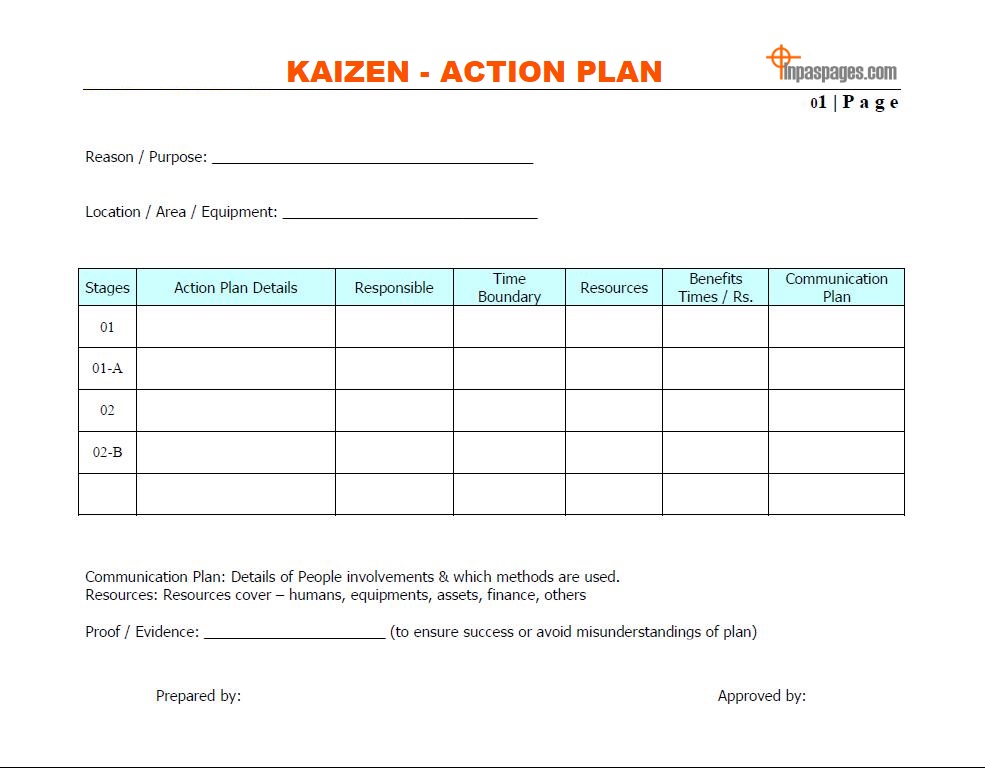 Kaizen comparative views
The action plan is schedule management for improvement of kaizen in workplace. Every action plan point should be pre-defined with it's current situation picture. Planning team must know what, where, when, why, who and how the processes will be implemented. Graphic views of each place where improvement will conduct must pictured.
You Might Also Like:
Kaizen:
Kaizen Rework Analysis Report format in Word Format Donwload