Work information is document may use to record information of work tasks assigned by management to individual, to complete the works in time frame.
Overview
The work information document establish to managing works tasks' details for department or personal. It may also use for group to conduct specific tasks to complete. The work tasks assign by management for complete during time frame. Its work information handle by concern department manager or general manager for monitoring and controls over the activities are manage accordingly.
How to balance work flows?
The documents are help to identify requirements, manage work load and balance work flows in the organization.  This work information concern documents are important for each department and individual work management. In the manufacturing facility the concern managers and supervisors. As well all the employee having a the schedule to complete the tasks.
The management system for the work tasks are manage according to customer orders and load for each production lines are manage and progress are manage in the documents. The concern documentation and all the work load are manage and balance through the documents.
Process flow
In the process are prepare by general manager as customer orders, product and sizes expect by customer. The orders and its work load are manage by planning department as machinery, equipment, resources and capacity of facility are consider during work balance for floor. The listed information of work tasks are receive by general manager from planning team. As reporting of work information document is record in the specific sheet to easier for managing tasks for monitoring and controls with human resources deployment. It may also help to verification of equipment and machinery engagement in workplaces.
Work information process management, and its concern documentation are manage by general manager. To cover all the production lines as well supporting activities of production are also verify and consider in the work information.
To easier for monitoring, assignment and controls over activities of each product manufacturing at various locations and stages. The documentation manage by general manager is work information sheet.
The work information Sheet format
See picture below given as example format of work information sheet for education purpose: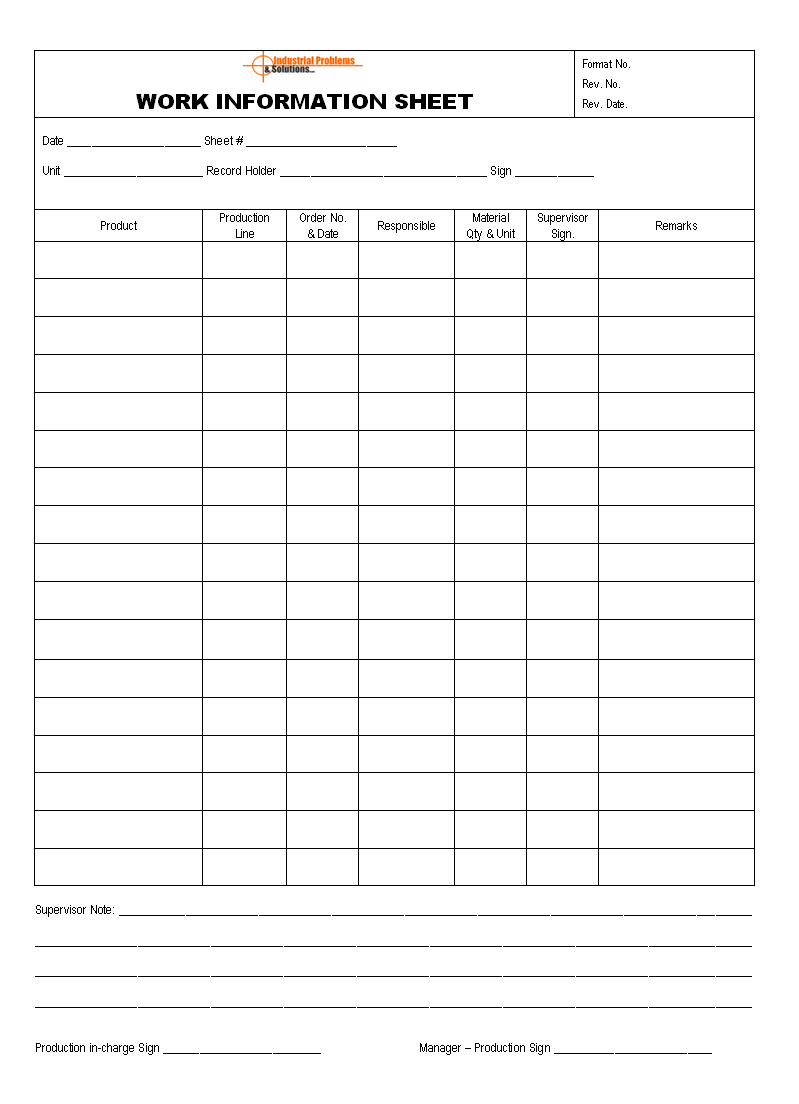 Work information sheet is format use to recording information and managing internal tasks. To each responsible person at workplace, the manager is responsible for managing document and assignment of duties to concern department people. Each production lines are manage as per order and product requirements with product sizes and quantity as per plant capacity. The document is help to manage monitoring assignment to each supervisors at appropriate areas. The document is update and storage at the production department and its records are manage as per documentation system.
————————————————————————–
Download format in word document | Excel Sheet | PDF format
————————————————————————–