In process quality inspection – quality control task
Learn how to conduct quality check to determine product conformity to projected results to establish criteria for in-process quality inspection.
This article is to provide the method for proper conduct quality inspection to determine product conformity in manufacturing process, in-process quality inspection handled to get the positive results by use methods, procedures and proper instructions to match the criteria of in-process inspection. Manufacturing having various processes that each process stages are its own parameters conducting to producing the materials, in process semi finished, under process materials is need to inspect to check the product quality due to various process are conducted, in between of the manufacturing processes quality inspection checking on after process is in-process inspection helps to identify defects, mistakes in the product, during the inspection any detection occurred that immediately process analysis, parameters changes, process changes etc., possible to conduct for improvement in product quality.
In-process quality inspection is conducted on at all the stages of the manufacturing if possible, mostly critical processes after the produced material is held in-process quality inspection to primary inspect to taken samples for quality checking to identify the semi product defects, mistakes. All the in-process quality inspection process & its records shall be proper documented, this records are prepared by quality engineers & part of remains production department to appropriate samples, product details. Amendments in the process inspections are conducted on base of the customer requirements, technical changes or specific requirements.
All the quality inspection included in-process quality inspection is scheduled, conducted and results are raised by quality department & quality department holds the ultimate responsibilities for the all inspections, Quality control / Quality assurance management determine defined & follow testing frequencies, sample controls and time management for ensure product quality, hence quality engineers / quality technicians are responsible for perform the inspection task to identify product quality requirements & conformity of the product required results.
Reference:
+ Quality Assurance Plan [QAP]
In-process quality inspection & manufacturing process
In-process quality inspections are conducted from the raw material stages to finish product, the samples form the raw materials are collected as per quality assurance defined guidelines.  Here as below given example, how to raw materials sample are collected and which type of the planning is conducted for inspection:
Raw Material sampling table
| Sr. No | Batch ID | Material ID | Inspection Activity | Batch Qty (Nos.) | Sample Size/Batch |
| --- | --- | --- | --- | --- | --- |
| 00 | 1250 | RM015 | Mechanical Property Analysis | 2500 | 5% |
| 01 | 1030 | RM015 | Visual Inspection | 1850 | 3% |
| 02 | 1500 | RM018 | Dimensionally checking | 1750 | 1% |
| 03 | 1500 | RM019 | Visual, Chemical, Mechanical Analysis | 3500 | 7% |
Raw material sampling plan & inspection is conducted by quality department, material Sampling and inspection is conducted on base of material specific requirements, product specifications and customer requirements for the technical expects, The process which are accepted during receipt are released for manufacturing verification of conformance to the specific requirements. All manufacturing process stages the products are inspected with material specific references, rejected raw material is segregated as per process defined and same is recorded for the maintain documentation system.
Generally in manufacturing unit, first piece inspection system is widely used due to its helps to detailed inspection of the product primary setup before whole product being produced, it is also considered to be an element of in-process quality inspection, Part of the production is not started until final quality control approvals, when quality assurance given the product specifications and standards are maintained & met requirements of product quality that reviewed by quality department.
After the approvals of the first piece quality inspection, materials are delivered to production, whenever new job is assigned to a production quality engineers are monitoring the steps of handling the materials, machinery settings and processes.
Quality engineers are collect the information of the jobs, product specifications, product technical requirements, customer specific requirements etc., and defined measurable values to compare the product parts (sample) with requirements.
Quality engineers are taken the samples as per quality assurances planning for sampling plan & compare requirements of the quality assurance are defined.
Generally quality peoples are used in-process quality inspection sheet which is regular quality checking sheet that helps to reduction in time and management values of the requirements, for the stages of the manufacturing, all critical measurements shall takes and compared with Quality assurance's specification sheet. See here as below in process quality control sheet: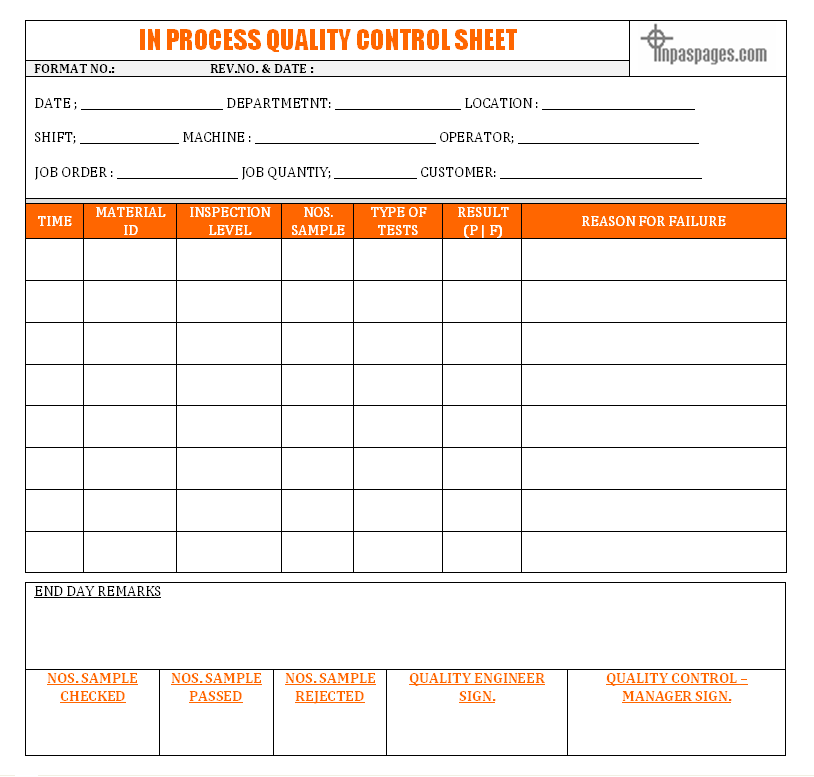 If the product does not meet the requirements as per quality assurances, product specifications and standards, customer technical requirements and product tolerances for acceptances & if can not be corrected by the adjustment of the process and any other technique that should the product will be rejected in that causes manage as non conformity, those non conformity material are manage separately for the analysis of the failure of the product standard requirements. All the non conforming materials are properly labeled, tagged and storage separately in storage areas, quality assurances and quality controls are reviewed all non conforming product by collection of data and analysis to get the finalized the reason of product rejections.
In-process quality inspection process helps to proper method for conducting quality checking / inspection at the manufacturing process wise stages, All the in-process quality inspection are conduct jointly by quality assurances and quality controls, quality assurances are prepared planning with compare all the requirements of the customers, products and technical specifications, hence quality controls is perform the task of quality inspection in each stage of the production where required or defined by quality assurance.
—————————————————————————
DOWNLOAD QUALITY DOCUMENT IN WORD | PDF | EXCEL
—————————————————————————