QMS : internal audit report General Questionnaire /Internal Audit Checklist for Raw Material Department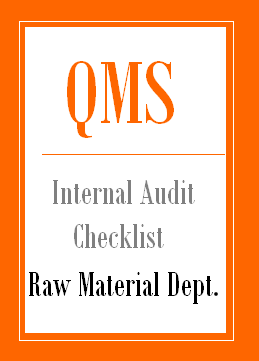 How are raw material quality& quantity requirements determined?
What is inventory policy so as to ensure sufficient RM availability for production?
Is sufficient storage place available for RM storage?

Is Material identification done properly?
Is FIFO followed?
Are RM sources selected based on quality capability?
Is test certificate obtained with each lot?
Does the RM P.O. specify T.C. requirement?
Is supplier performance monitored considering all aspect of ISO 9001 & TS16949?
Is RM supplier QMS certified?

If not are they asked to ensure
Are RM defects monitored & informed to supplier?

Are improvement actions obtained from suppliers?
Are RM inventory levels monitored?

Are efforts taken to control /reduce excess inventory?
Is periodic RM stock assessment evident?
Are production activities planned based order schedule?
Is timely delivery to customer ensured?
Related Topics: