Overview of the Quality System Review Process
Quality system review process is standard method to ensure the quality requirements for processes and product. These reviews should be intend to assure that the quality system of each business is effective in achieving Total Customer Satisfaction.
Introduction to Quality System Review procedure
The management is establish CFT (Cross functional team) for conduct, monitoring and review activities in manufacturing. The cross functional team is establish on cross reference peoples from various department, experience and specific skills. The cross functional team is comes from different fields and skilled, experience that helps to identify different issues, treats and opportunity of process improvement. The management & CFT are working together for improvement of processes.
The improvement of processes needs to proper reviews by different angels and views of each standard requirement. The quality system which is defined, implemented and adopted as per standards are managed accordingly. The improvement of processes needs to verify and reviews of feasibility of quality system improvement subjects in existing system. The cross functional teams are conduct the processes to identify quality system and enhancement of quality requirements. As well as sustain the stages includes the regular tasks of processes are managed. These considered the quality requirements of product and works concern.
How to implement it?
Cross functional teams are responsible for conduct quality system review process as per standards. The team reviews the system and documentation are submit to management accordingly. The management is responsible for review documents, and determine for improvement as actions are suggested by CFT. The CFT is prepare documents as part of procedure of reviews, to present the condition of process at various levels.
See picture below, how the quality system review process performs: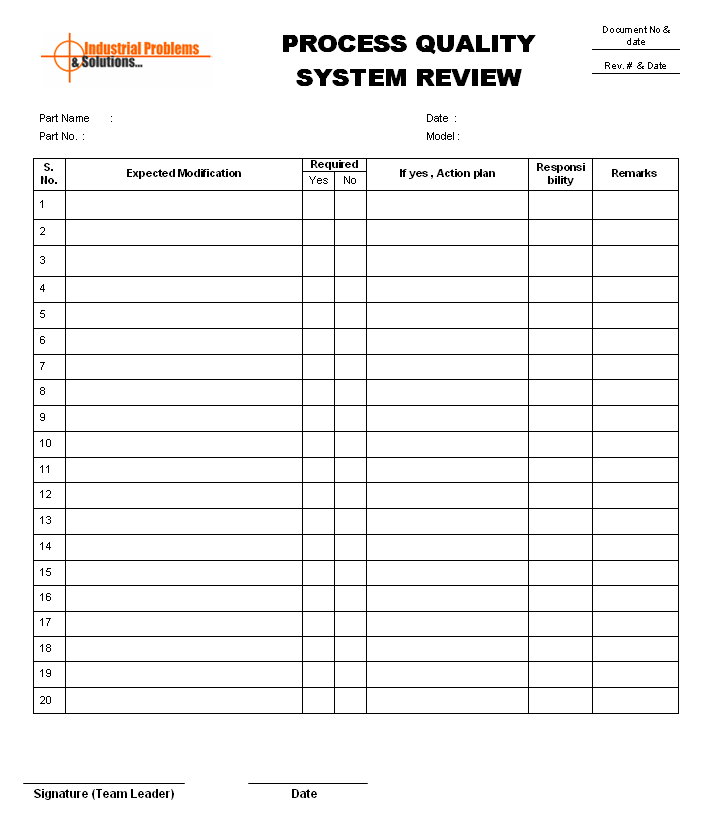 How to manage quality system review process related documents
The cross functional teams are prepare quality system review process format. In this format, includes records of each stage, activities and process requirements. The team also verify some basic requirements of quality system those are:
Is there change in quality manual, procedures, formats and work instructions?.
Is there control plan for process is defined?. are there any changes made?. Or needs to change on after completion of reviews.
What are the process standards / inspection standards?. Any new inspection gauges, gauge instructions,  or reference samples required?.
Are there any visual aids required?.
Is there change in calibration system requirements?.
Whether Change in material storage system requirements?.
Is there change in the material handling system?. At the processes and moving materials system?. Or inventory norms?.
New process capability studies requirements?.
Are there additional Statistical process control tool to be used?.
Is there any modification done in the existing processes?. Verify the process stages?.
Is there any mistake proofing required? And new measurement system analysis study to be done?.
The team identified any change in plant layout and its requirements?.
The existing purchasing system is sufficient?. Is there change or improvement required?. Is there new suppliers are developed?.
Any modification in the internal audit?. Any new training requirements are identified?.
Has the customer approval required on packaging specifications / or any specific requirements are identified?.
Conclusion
The team focus on main objective that is customer satisfaction. Because, customer satisfaction is target objective of quality system. The team will perform review tasks on standard reference. Such as international standards, product and technical requirements. The team is also review on process change or management change. In case any process change are happen, the review for the amendment are conduct separately. Means that can be depends on the time period and amendment conditions.
Here you can download word document | Excel Sheet |  PDF format of  Process quality system review you can use for your internal system.