Annual Training Calendar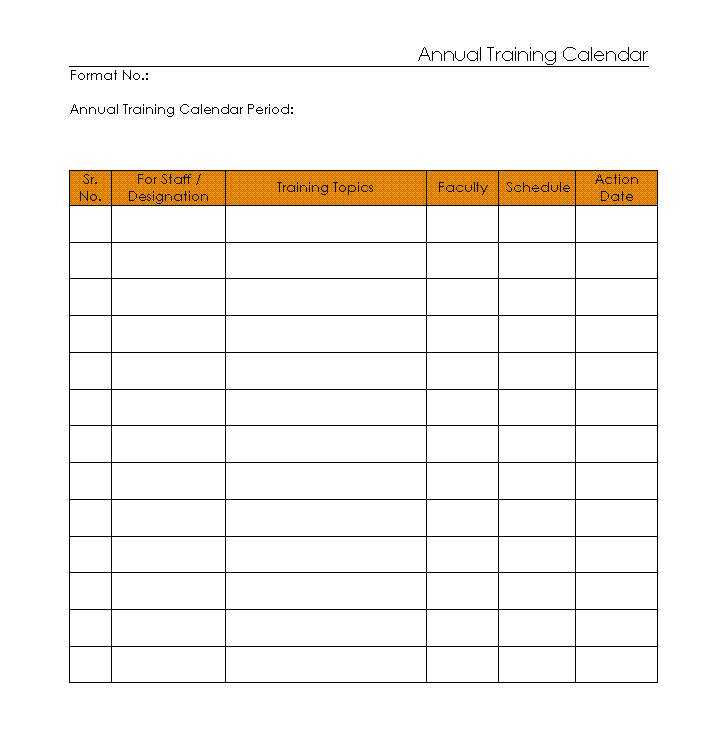 Annually training schedules are prepared by human resource department for various department people to improvement; it is advance plan or schedule for the year that in identified needs of training individually as well as during the previous year requirements of the company to consider all concern subjects, annual training calendar is prepared by human resource.
Each organization, annual training calendar prepared, in case of the any requirement found it can be modify letter as & when required, but almost calendar need to prepare as per requirements of international standards.
As you see picture above, there are basic required fields are as under:
trainee designations
training topics: all possible topics are need to incorporate
Faculty for individual topics, against the training topic faculty is pre defined for the subject.
schedule time are also fix for the whole year same will be intimate to all concern faculty respectively
Actual date is also need to incorporate, the planning is going on track or not, which subject training is done on which date are also mention.
————————————— Download —————————————
Download Annual Training Calendar format in word Document format
Annual Calendar format example, Samples, template Download
————————————— Download —————————————
Related Topics: