5S Evaluation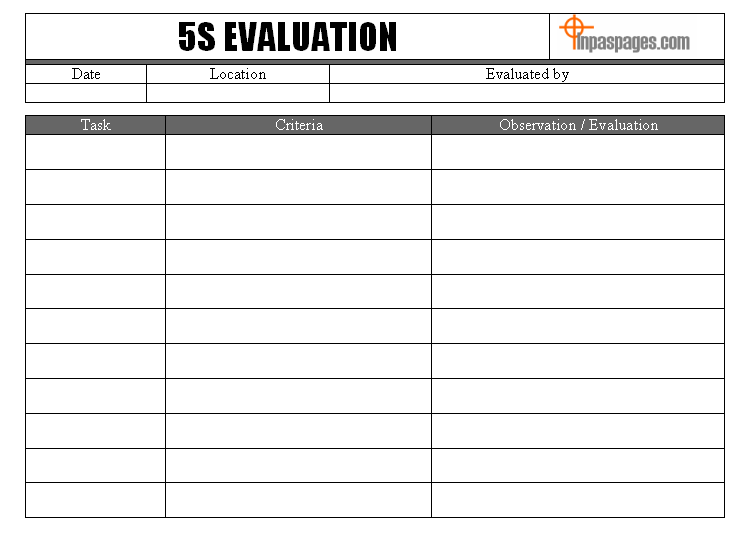 To implementation of 5S in the company has to be actively participating in the 5S system, after the 5S system updates need to evaluate where still gap or something missing implementation at some parts is. This is very important for find out the gap of the 5S system, here as below some points that helps to inspecting all the areas concerning with activities.
All unnecessary items which are not associated with works or with the job remove immediately, only required materials, stationery, tools, parts, cleaning supplies and products are present at workplace.
Always store material at in neat manner, handy, easily accessible and easier for the reach by concern person. In manner of saving time.
All the areas of the offices, workstations etc.. are cleaned and free for the dust, oil, water and grease. There are also important that frequency of the cleaning should be defined & same should follows strictly mostly daily cleaning is recommended.
Mostly companies are arranging news board / bulletin boards should be clean and all the news / bulletins are up to date, arranged in the an ordered, date to date information. Recommended that in each department should have to one board at least.
Any kindly of safety equipments which is required in emergency situation should be easily accessible.
All the emergency electrical equipments, switches, panels etc.. are identified and highlighted by different color.
All the admin areas like parking areas, gangways etc.. are cleaned & specific marked by color its bounty.
Storage of the materials, tools or anything store as per designed areas, all the materials should be in sequences & ordered to easier for finding.
All the machinery, equipment, cranes and others should be painted in standard color with Name of machine, equipment or carne what ever by its capacity.
At all control panels, switches, machinery, equipments i.e. each controls are clearly, readable labeled.
All the critical points are inspected by operators by daily basis, routine checklist should be available and easy to reach / displayed & daily updated.
In working area, there are only necessary documents / records & papers should be present on desk, unwanted or monthly, yearly records are proper storage in sequence of months at defined area.
Documents / Files / Records are properly labeled to easier for identification and save time to searching. All the document controls are defined & available with concern person.
5 "S" Check list should be available – 5S checklist is at working table & checked as per decided frequency. 5S helps to reducing time consumed in searching material of use, if the material is taken out form their location helps to recognize and easy to inspection. 5S helps to work effectiveness, safe working environment & inventory controls, further improve workplace utilization and better identification if using color coding.
You would also like to read: