Fire extinguisher History card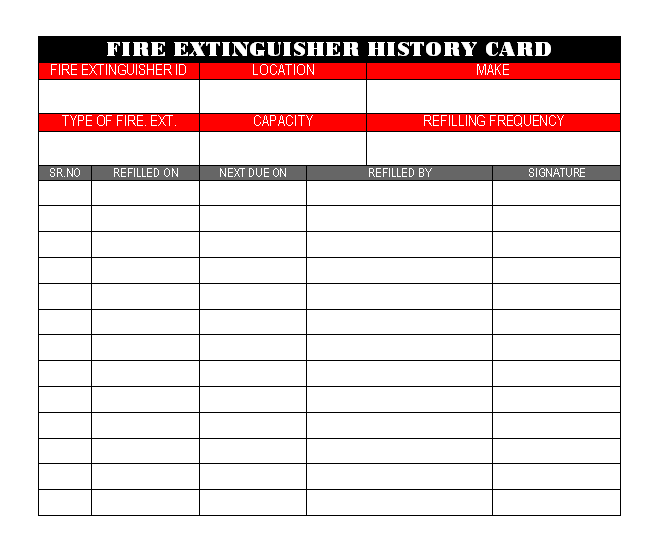 Manufacturing industry's basic need of the chemicals, packing materials, wood and other material which is highly flammable, some gases are used in company that can cause a heavy fire accident, for the quick solution in case of fire accident happen in company that fire extinguishers should deployed around the area which is high combustible  material or chemical stored. Each chemical or high flammable material storage, handing or temporary storage areas having needs to fire extinguisher deployment and maintain with people must trained to operating at time of accident. There are also one more think that all the deployed fire extinguishers should be timely inspected for the checking of the pressures, due date and other conditions of the fire extinguishers. Mostly company are used the history card for the each fire extinguisher as the tag to enter the values on base of inspection on time to time inspection visited. Here as below some fields are given that can use as fire extinguisher history card:
Fire Extinguisher ID
Location
Make
Type of Fire extinguisher
Capacity
Refilling Frequency
Details
–         Refilled on
–         Next Due on
–         Refilled by
–         Signature
Fire extinguisher history card is the total informative tag type record which is deployed along with each fire extinguisher at location. On base of the fire extinguisher history card next decision for the refilling or replace the fire extinguisher are taken to maintain safety in company.
EXAMPLES, SAMPLES & FORMATS
You would also like to read:
SAFETY INSPECTION CHECKLIST POINTS FOR FIRE EXTINGUISHERS
FIRE PROTECTION INSPECTION CHECKLIST
FIRE EXTINGUISHER INSPECTION CHECKLIST
FIRE EXTINGUISHER MONITORING RECORDS
WHAT IS FIRE EXTINGUISHER ? HOW TO USE?