Inspection Control Register
Checklist is finest solution for inspect any location, equipment, process or product concern. Inspection checklist help to inspector to focus on critical part of the subject that required inspecting deeply, there some options of the checklist point give the reference to check out / inspect the subject that can be equipment, product, process etc… All the required field / parameters are checklist gives the basic information to tracking the information of the subject.
Actually, inspection control register is inspection checklist control register, where all the checklist information, frequency of inspection checklist year wise defined and monitor for the each inspection are timely conducted whether this information are verified & approved by management representative to secure the equipment by inspect & controlling the trouble on time.
Inspection is important as we know that checking equipment / machinery that raised trouble can preventively solve to avoid losses incase found. Checklist inspection control log or register is year wise maintained, that each inspection checklist are covered & monitoring are done month wise, if the checklist frequency is quarterly that inspection checklist are indicate that is quarterly requirements. But here in inspection control register all the checklist frequency are expecting monthly, close frequency having a not good idea but its creating sense that monthly inspection takes little benefits.
For the critical requirements of checklists in industrial requirements, here inspection checklist control register format are available for download free with some basic inspection checklist points to covered all general equipments / areas / locations and instruments that concern with safety of industrial peoples.
Actually inspection control registers having two parts: in the first part all the checklist monitoring records are covered by month which performed by inspectors as defined frequency in general manual. Same are in second part of the inspection control register covered the requirements of the part of inspectors that all the inspectors name and basic functions are mentioned in it, each inspection checklist and who will inspection for the area or equipments are mentioned in this register.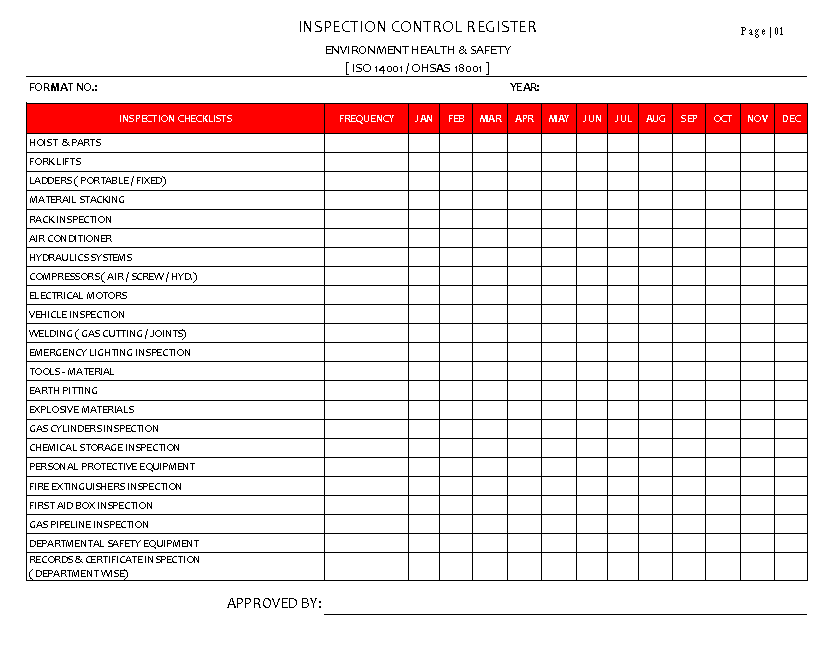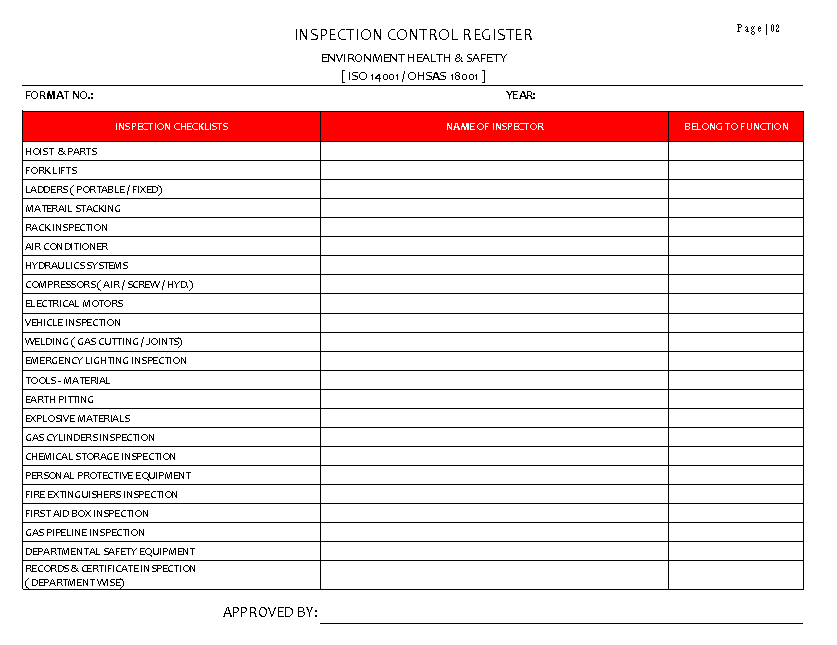 EXAMPLES, SAMPLES & FORMATS
You would also like to read:
 | HOIST INSPECTION CHECKLIST | HEAVY EQUIPMENT INSPECTION CHECKLIST | INSPECTION & TESTING AUDIT POINTS | IN PROCESS INSPECTION FORM | ENVIRONMENT HEALTH & SAFETY GENERAL INSPECTION POINTS | CHEMICAL STORAGE ROOM SAFETY INSPECTION CHECKLIST | STORAGE RACK INSPECTION CHECKLIST | AMBULANCE INSPECTION CHECKLIST | CRANE & LIFTING EQUIPMENT SAFETY INSPECTION CHECKLIST |