Process improvement template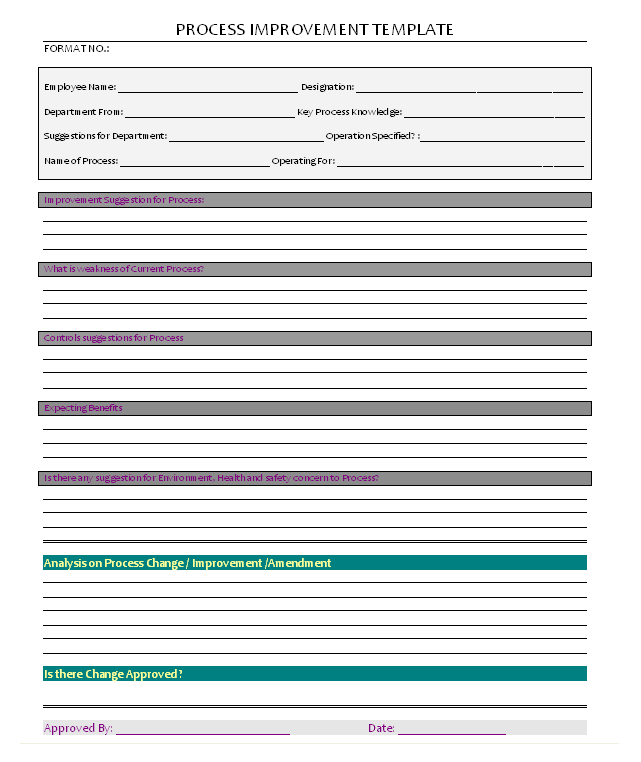 Employee Name  – Name of Employee, who had given the suggestion of the process improvement

Designation of the employee

Employee Department

Key process Knowledge – currently on which process  & which process are used for the improvement product quality and safety of the work flow.

Suggestion for Department – There are also possible that, employee belong second department but suggesting for another department process, there are also possible that employee had improved its internal process and asking for the change or amend the second department process that is batter according to employee for works

Operation Specified? –Employee suggested or for the suggesting process is for which operating specify.

Name of Process that suggesting to change / amend / improvement.

Improvement suggestions for Process – Employee suggestions are noted here, what employee want to change for the improvement in process, what parameters, machine parameters, operating skill or engineering change that need to process change for the better improvement.

What is weakness of current process? – in the employee suggestions, there are big question that what is weakness of current process that employee are asking for change? All the concern information of the weakness, parts that costly or some part is time consuming that possible of weakness.

Control Suggestions for Process – All the possible controls suggesting by employee to fully control process for the better product quality.

Expecting benefits – according to employee suggestions what benefits, gain can company achieve through new suggested process instead of current process it can be cost concern, time concern, safety concern, manpower concern, engineering change concern etc.. Overall company gets the benefit through it.

Is there any suggestion for the environment health and safety in new process, in the new process employee had taken care of the environment, health and safety issues that possible during works.

Analysis process Change /Improvement / Amendment – Authorized personnel are checking the new process, compare with current process, collecting data, information for the analysis and take the necessary action if required for the existing process improvement or replace with new process as employee suggested.

Is there change approved? – if the authorized personnel are fill to new suggested process is better perform instead of existing process that can be approved.
EXAMPLES, SAMPLES & FORMATS
You would also like to read: