Process inspection form
Process inspection to ensure the manufacturing process's parameters, required criteria to match the product requirements, supporting material requirements, machinery and other part of the process are well maintained to processing of the product will match with requirements of the application of product.
Process inspection is very important part of the manufacturing unit that product quality and improvements are depends on the processes & its implementations, some basic requirements for the process inspection form format as below:
Details of work station
PFD number / SOP / work Instruction Numbers
Process name and description
Process parameters
Condition of work environment
Safety equipment used for the process
Chemical incase of used
Basic storage details
Emissions details generated from process
Power system located for process run
Wiring and cabling at work station
Waste storage
Manufacturing process inspection is unique requirements that need to step out each stages of the inspection, in case of any mistake happen that process can be labs important updates from the inspection process and same are assurance of the process can be faulty that directly effect on product.
In the process inspection, here some useful requirements that directly affect the MFCA (Material Flow Cost accounting) data and its requirements, each process and machine scrap accounting are also possible and need to consider in process inspection, same are included 5S / 6S requirements that whole "Integrated Management System (IMS)" requirement with process can possible to incorporate in format that during the inspection possible to tracking and find out leakages in the process system.
Process inspection form format requirements information, required fields to form data is available as below links, process inspection form format, and example, sample and definition details.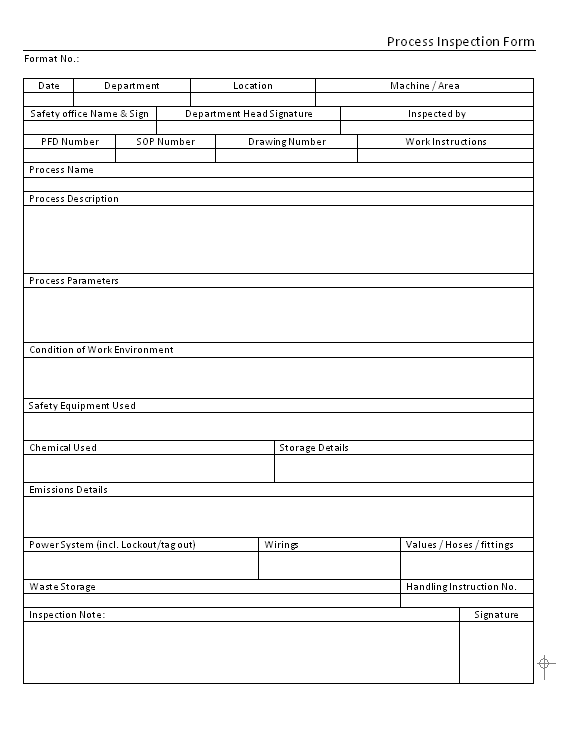 EXAMPLES, SAMPLES & FORMATS
You would also like to read: