Safety inspection Checklist points for packing department – Materials Packing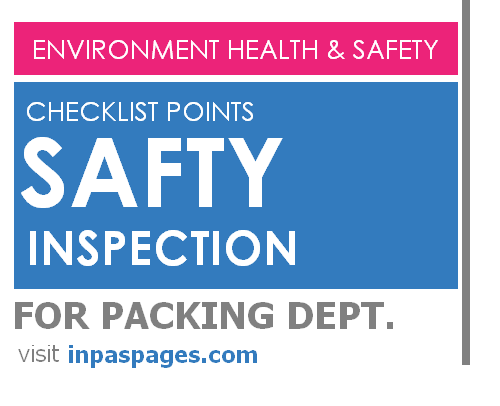 Are there any unwanted material lying on floor of Packing area, and same are at outside the gangway of processing packing activities / material movement / temporary storage area?

Do people wear appropriate PPE (Personal Protective Equipment)'s like safety Shoes, Hand gloves during process / packing of material?

Is the material is stacked / stored at the specified height (Specified height should be required as per materials instructions, defined height at packing department / temporary storage of material area?

Are there any rotating equipment / rotating things without safety guard in machining area / bundles / pieces / boxes supporting equipments having rotating things?

Is there any damage of Electrical appliances?

Is there any loose wire or open connections within raw material storage area?

Is there any leakage of oil / coolant on floor?

Is there any rubbish like MS wire pieces, MS packing strip, cotton, plastic, Hessian cloth, Paper boxes or wooden boxes scrapes etc. on floor or packing area?

Do people follow work instruction for packing the materials, work instructions for the open wooden boxes & closed opener, striping materials & handing?

Is crane or Lifts Examined once in last 6 months by authorized and competent agency? Is there any evidence? Or as per laid down standards.

Is the packaging material stacked and stored in safe & systematic way?

Whether Vehicle fitness certificate is verified before loading the vehicle. Check fitness of driver.
Related Topics: