Skill matrix
What is skill matrix?
A skill matrix is table showing information about individual experience, skills, competencies and organization's internal system understanding of person. It's also called competency framework.
A skill matrix is often use in human resources department that widely uses to achieve the effective manage employee skills, job assessment and training. A skill matrix is simple but most effective tools to assess various requirements of organization like job management, training on reviews of authority. Commonly the table used to identify skill level to perform scientific analysis to target objective of individual. Management personal are analysis and reviews the skill matrix for assessing training needs to comply their job task mean its help to identify skills and gaps within the concern peoples / team to asses training needs to make more sufficient to their assigned works.
Why Skill matrix needs? Or what is objective of skill matrix?
Identify gap within group / team
Determine skill requirements for future jobs
Assessment of job as identified skills of individual
Training / skill development
Skill matrix table is basically database which is maintain information of each employee, operator. Which employee can perform which task better and which having needs more training to perform task, skill matrix helps out to identify it. It's also important every information and records should be update frequently to measure current status to easier for plan further training. Generally, in manufacturing unit all the supervisors and department head are collecting and analysis information to manage operators, and select any operator as per its skill to perform any specific job task.
Benefits of skill matrix
Management can easily identify requirements of training, cultivating to reviews of comprehensive list of key skills.
To helpful for manage financial system to allocation of budgets as per gap analysis.
Management deploy any operator / workmen at specific task as identified skills to achieve target area.
A matrix that used at for the evaluation individual employee skill as requirements to identify contingency requirements, for the improvement individual employee to increases productivity, skill that help to enhance the quality and product's manufacturing through knowledge.
Some examples for the skill evaluate in the matrix as are under:
Minimum Experience   in respective field
Managerial Leadership & Decision Making
Knowledge of quality management system –  ISO / TS
Knowledge of Environment, health and safety
Knowledge of 6S
Knowledge of lean manufacturing.
Knowledge of MFCA ( Material flow cost accounting) & 3R ( Recycle, Reuse, reduce)
Knowledge of  Product in depth
Human & Technological Resource management Skill
Quality to Build, motivate & Lead Team
Manpower Handling  Skill / Manpower Handling  Skill
Knowledge of Standards & Grades
Skill to manage all types of stoppages and ability to preserve & Maintain Machinery.
Knowledge of Computer & its System handling skills.
Knowledge of HRA activities & labor law plus
Knowledge Inspection & measuring and Testing of Quality Parameters.
Knowledge of Production Process and Shop Floor activities Manufacturing
Gap Analysis
Training Required
As simplify to identification to enhance skill level, on base of the skill matrix further training are arrange, if the employee level found below acceptance criteria of the required skill to perform task. For this requirements here ready made format for skill matrix as available for download as below: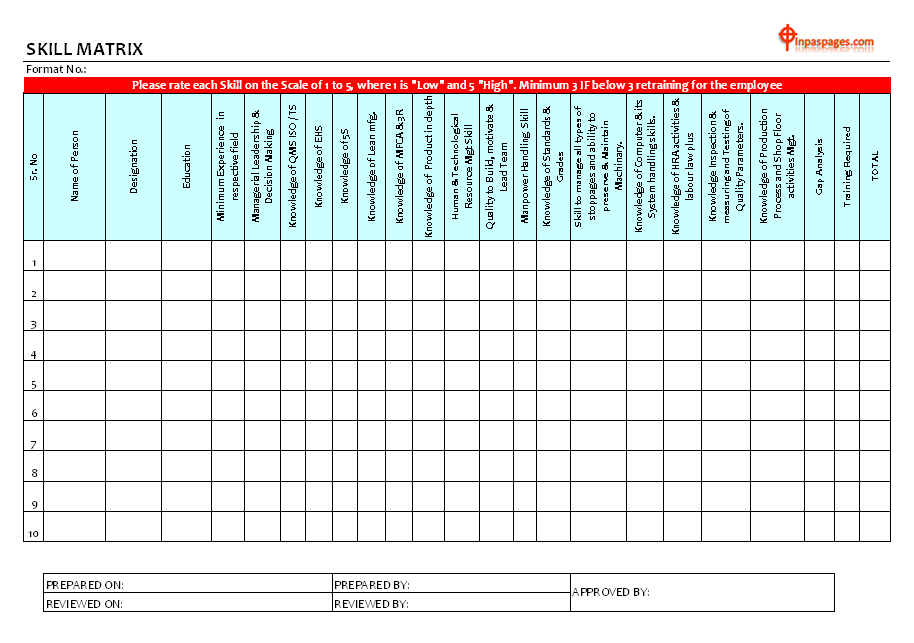 EXAMPLES, SAMPLES & FORMATS
You would also like to read: