Individual Training Record
Human resource department, individual training records are maintained for the tracking each employee / workmen records to supporting for the individual improvement and enhancement for the motivation.
Individual training records is very important for the employee that is permission for the work taken on base of the training.  Training records and its subject is base requirement for people who passed the training and its requirements of the operating or any others are taken practical at plant.
Individual training records format requirements as below:
Date
Task
Training Completed
Effectiveness checking
Observation checking
As basic requirements of the individual training record, authorized persons are verified effectiveness of training to ensure the trainings are fulfill requirements as subjected.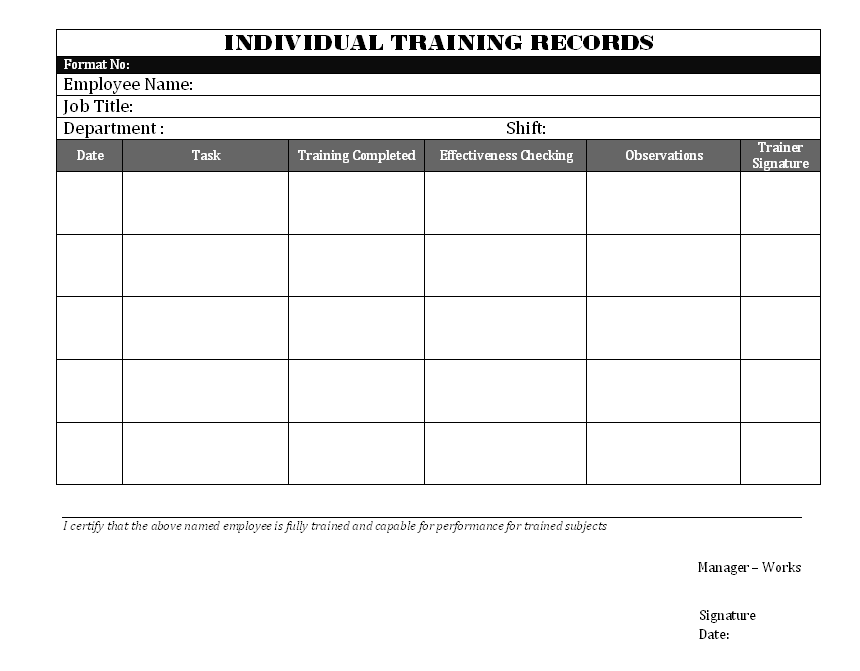 EXAMPLES, SAMPLES & FORMATS
You would also like to read:
| ORIENTATION TRAINING PROGRAM FORMAT | TRAINING NEEDS ANALYSIS | INITIAL TRAINING PLAN | SAFETY TRAINING PASS | ANNUAL TRAINING CALENDAR | TRAINING EFFECTIVENESS EVALUATION REPORT | TRAINING FEEDBACK FORM | TRAINING SUMMARY REPORT | BUDGET OF TRAINING PROGRAM / TIME (HOURS) | AUDIT TRAINING EVALUATION SHEET | TRAINING RECORD FORMAT | TRAINING NEED IDENTIFICATION FORMAT | TRAINING ATTENDANCE & EVALUATION REPORT FORMAT | CERTIFICATE OF PROJECT TRAINING SAMPLE | INDUCTION TRAINING PROGRAM