Glass Incident report – ISO 22000 ( Food Safety Management System)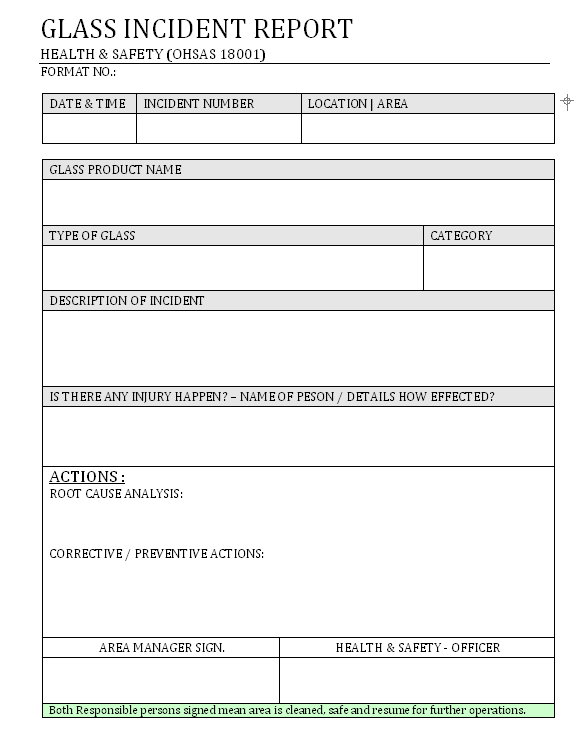 Food product manufacturing companies are well aware hazard of broken glass that possible to loss of the material due to it, in any circumstance in food product manufacturing areas, breakage of the glass incident occurred that need to immediately actions to eliminate possibilities of the material waste of necessary actions on it.
In the food product manufacturing processes, near any glass broken incident happen that need to examine whole the food product material for the micro parts of the glass, if evidence of contamination is observed that whole product or part of the product which is contamination evident should be disposed to maintain food safety. Glass incident is hazardous for the food product manufacturing, hence its should serious approach to make possible glass free working environment, hence here as given example for the glass incident what subjects are addressing for the triggering investigations and actions:
Date / Time, incident number ( As per Sequences ) and location, area name

Glass product name – Name of the glass base product like biker, bowl etc..

Type of glass & category of the glass are maintained if any.

Description of incident

During the glass incident is there any injury happen, name of the person and details of the injury with how the injury happen.

Actions on the incident – Root cause analysis and corrective / preventive actions
All the glass incident reports are need to maintain accurately, investigation of the  each incident should be perform properly to eliminate possibilities of causes of the glass incident at the all production areas.
EXAMPLES, SAMPLES & FORMATS
You would also like to read: