QMS : internal audit report General Questionnaire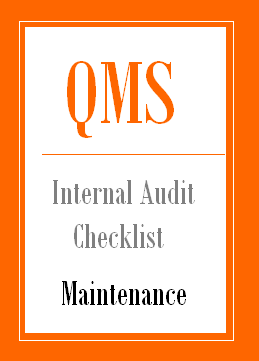 Internal Audit Checklist for Maintenance Department
Internal Audit Checklist for Electrical Maintenance Department Audit
Internal Audit Checklist for Mechanical Maintenance Department Audit
1

 

Is List of machines equipment maintained?

Does it include all machines/equipments in unit?

 

2

 

 

Is preventive maintenance schedule of each type of; machine available?

Are activities carried out as per schedule?

Are record maintained including problems observed / repairing done etc. during PM?

 

3

 

In case of breakdown are those intimated from production to maintenance?

Are timely actions initiated against this noted breakdown?

Are records maintained?

 

4

 

 

In Predictive maintenance what is the methodology applied to machines/equipments?

How is it monitored?

 

5

 

 

Is break down trend

(% down time )

Prepared /monitored?

 

6

 

 

Is it analyzed to find out repetitive problems? Are actions initiated against any of these repetitive problems? Are actions effective?

 

7

 

 

Is concept of machine maintenance reliability & maintainability understood?

How is reliability calculated?

Are trends satisfactory? If not are actions instituted to improve the same? Are actions effective?

 

8

 

 

Does maintenance department ensure availability of key replacement parts so as ;to ensure no stoppages due to unavailability

Of spares?

 

9

 

 

Are sufficient fire extinguishers provided in plant?

Are those periodically verified for appropriateness?

 

 

10

 

 

Is statutory testing of all lifting device & carried out annually? Do the results indicate continuing suitability?

 
Related Topics: