Lifting equipment register
Location / Area – name of the location / area / site there lifting equipment used / installed.
Serial Number – Serial Number of the lifting equipment which is unique for each.
Capacity – Capacity of lifting the material, for each equipment need to mentioned.
Manufacturing details – Details of the maker of the lifting equipment, information of the lifting equipment is very important for the various purpose, like a parts purchasing, maintenance purpose etc..
Test load details – Lifting equipment must be periodically inspection, checking, load test is required to ensure the lifting equipments is working properly, this is regulatory requirement too, hence need to care of it.
Certificate number – This certificate can be test load certificate of manufacturing certificate, all the certificate numbers are need to mentioned and update timely.
Test Date – When the last Test is done for the equipment.
Due date – what is the next due date for the testing / calibration / inspection.
Current Condition – During the inspection / checking what is the condition found, information of current condition must updated.
Remarks – If any information is required about the lifting equipment is mentioned as the remarks for the records and information purpose.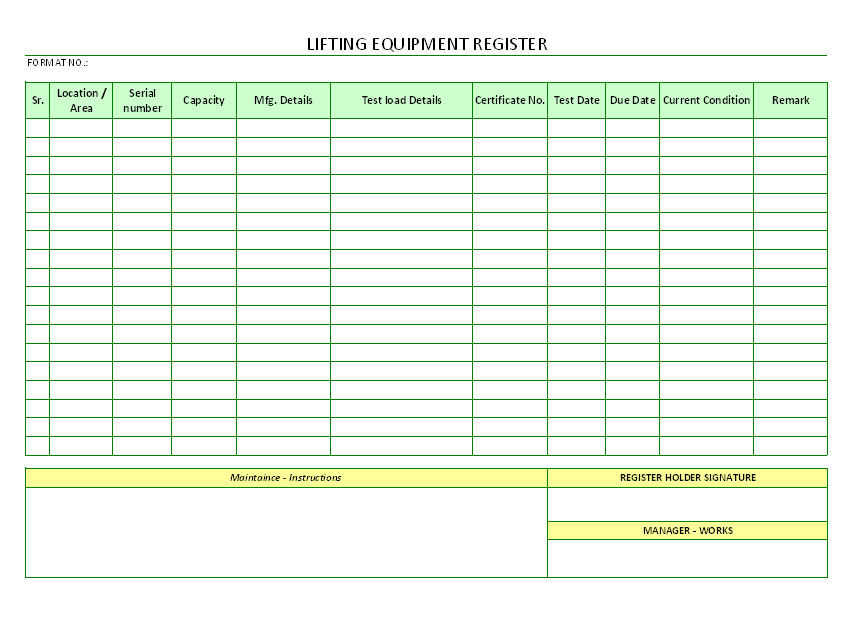 EXAMPLES, SAMPLES & FORMATS
You would also like to read: