Process Mapping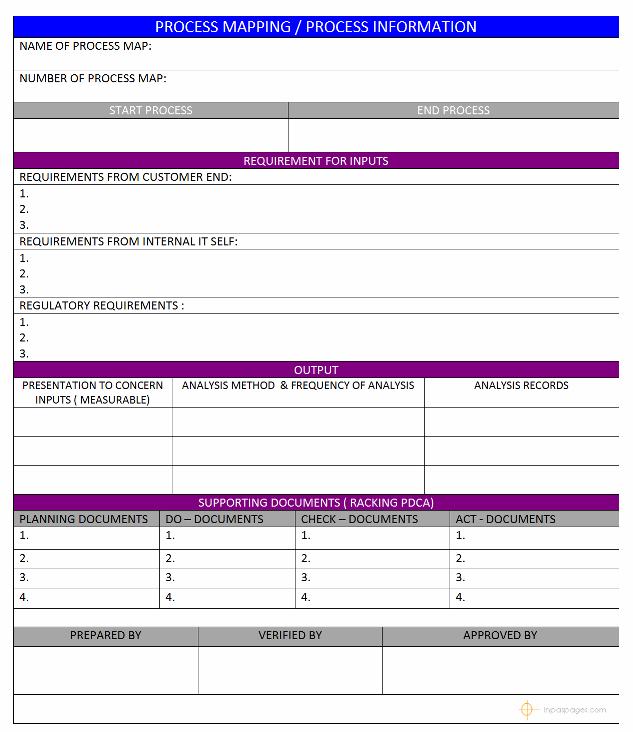 Process mapping is not a flow chart, but flow chart is part of process mapping, it's to be clear that some peoples to first impression understand process mapping is process flow charts or diagram. Process Diagram or Flow chart are show the require step that taken for final product, Process flow chart is primary prototype that just simply people can understand to show of process steps only, hence process mapping need to considering all concern documents that used for process, its parameters, input requirements of customers, input requirements for process its self, regulatory requirements should be met, further records of analysis, chart or any observations are measuring of outputs that is final products. Two major thoughts are there where does process start & where does process an end.
Process Mapping or Process information is a unique method to achieve goal customer satisfaction that section in the process mapping are gathering information from customers & ultimate is customers.
The being of the process mapping need to collect all concern documents for the process mapping, review and map the documents for support, documents that show the status that can be strong points and weaknesses too, identifications of weak points by review of the documents are collected for process mapping.
If you are doing process obviously its must has an input & out put that need to be identifying the process requirements for input & output that meet the customer requirements, satisfaction & regulatory requirements. Input & output of the process mapping is trigger section where output to be consistent with the requirements of the input.
All the required inputs are significant role in procedure for processes are going to develop, procedures are gives a systematic method to operations of processes, implementation of process need to be review that should be met the final output are core value contest. Procedures are establishments, implementations, awareness, trainings, documented & auditing its all are making a process mapping healthy.
If possible, Establishments & maintain documentation in line with PDCA (Plan – do – Check – Act) to easier for implementation for process mapping.
————————————————–x————————————————–
————————————————–x————————————————–