Emergency Response test form
Organization deal with hazardous material & manufacturing processes which form hazardous material are generated or the material that cause the serious accident which is comes in form of the chemical, gases or any material that causes fetal accident that is emergency, for those incident / accident which is need to fetal that more cloudily impact are declared as emergency.
There are different and different types of emergency, organization prepared the emergency plan for each emergency as possible for unit and those emergency plan are need to test to identify the requirements of the sources and possible mistakes / miss understanding and testing of the fighters as rehearsal drilling are conduct,  those drilling rehearsal is emergency response test, which people who working in area / department or zone which are training / aware about the emergency plan, for the testing purpose drills are conduct without those people knowledge to understand who those peoples are response in time frame, because when the emergency declare accident can happen in few second, during very short time people need response, they must aware the situation and response what for training given.
For the emergency response tests form some basic fields that used to record the testing:
type of emergency
Test Result
response time
Comments from department, where drill are arranged.
General observation on emergency response plan
They all basic fields which required to covered and recording of emergency response plan to identify the further requirements of the training for the emergency response plan or any other requirement like resource for the department to easier for  the workmen / employee and visitors at time of emergency.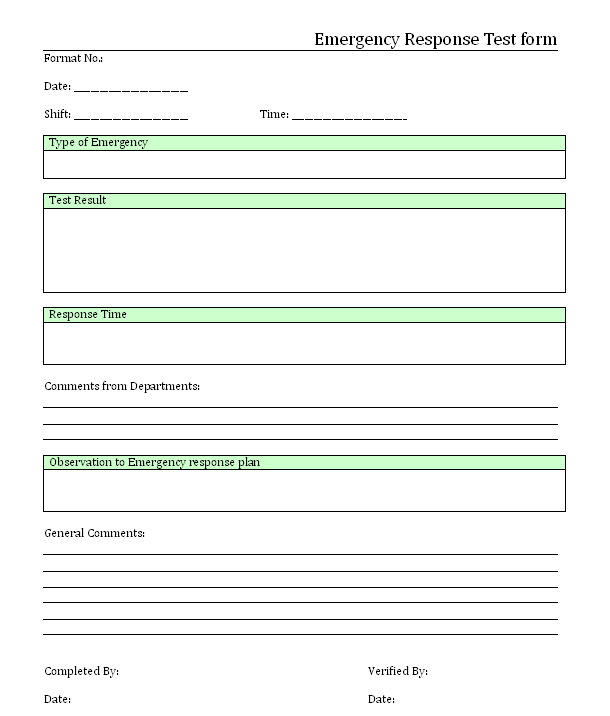 EXAMPLES, SAMPLES & FORMATS
You would also like to read: