Layout Inspection Plan
Layout inspection plan is planning process of complete dimensions & functional inspection of the product and manufacturing standard cycle.
Layout inspection plan is the planning of the inspection of the product, whereas product mapped, complete product dimensions, manufacturing standard cycle is inspected during the layout inspection as per customer expectation and end application requirements. Generally, it is covered processes of product, work instructions, machinery planning, manpower planning, everything which is effect the product quality.
The scope of the layout inspection plan is determined by quality assurance team and as apply to all the functions, and components, assemblies and sub-assemblies, finished products manufactured within the organization including documentation audit and layout designed. it is the perfect inspection that conducted after completion of the final inspection once in quarter or customer requirements, wherein take care of product quality must have maintained as expecting with the product process and mapping. Layout inspection planning can possible monthly, batch wise or customer's product wise to individual recording and tracking the information of the layout inspection and its planning against actual inspection, non-conformity and concern issues.
Layout Inspection Plan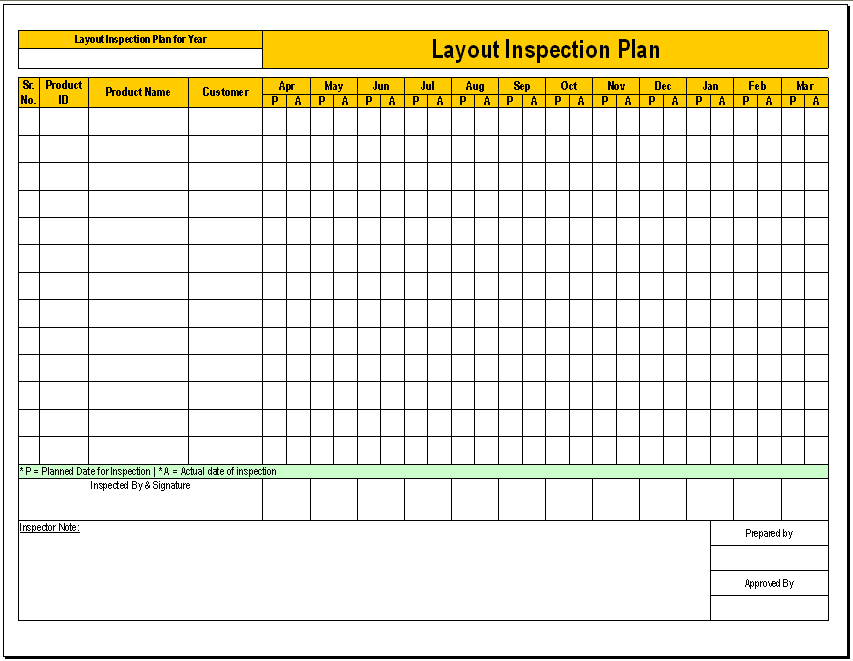 Layout inspection plan for year
Product ID
production name
customer name
Monthly Schedule  – Planned / Actual
As you can see above field that used for the recording the information of the planning sheet, layout inspection planning sheet or layout inspection plan format is simple monthly product wise planning for the customer's requirements and quality product.
Process Inputs
| Sr. No. | Inputs Description | Source ( From Where ) | Review / Acceptance Criteria |
| --- | --- | --- | --- |
| 01 | Component, Part Drawing / Assembly Drawing | Development | Controlled Drawing Revision Status |
| 02 | Approved sample | Quality Assurance | Quality Assurance / Customer Approvals |
| 03 | Inspection standards | Quality Assurance | Revision Status |
| 04 | Inspection, Measuring & Test Equipment | Quality Assurance | Calibration Status |
| 05 | Test Samples | Process | Samples as per sampling plan |
| 06 | Packed Products | Dispatch | Quality Assurance / Customer Approvals |
| 07 | Customer Complaints | Customer | Item Name & Nature of Complaint |
| 08 | Lab Test Results | Outside / in house testing Laboratory | Test status |
Process Outputs:
| Sr. No. | Output Description | Internal / External Customer |
| --- | --- | --- |
| 01 | Checked Samples / products | Next stage operation / packing / dispatch |
| 02 | Deviation note | Quality Assurance / Customer Approvals |
| 03 | Monthly Status of Product | Manager / Management Representative |
| 04 | Document Audit report | Production / Customer Approvals |
| 05 | Layout inspection report | Production / Customer Approvals |
| 06 | Feedback of in process and final inspection | Production / Quality assurance |
Layout inspection – Effectiveness & Efficiency Indicators
The layout inspection is similar for first article and its related inspection processes, as well as the inspection processes should be properly monitored and measured to analyze the condition of improvement, the effectiveness and efficiency can be measured and monitored on periodically interval. Generally, effectiveness of layout inspection is measured and monitored through percentage of rejection, percentage of rework, and quality related customer complaints received. All the monitoring and measurement process are conducted by quality assurance team, and responsible for collecting information, measure all data collected from manufacturing site, analysis of information through various method like trend chart, summary report, customer complaint register. In quality management system, the simply quality assurance team is verifying efficiency of inspection process is measured through cost of poor quality, which is conducted, measured and reported commonly on monthly basis, the report is prepared by quality engineers where all the information of cost of poor quality is verified by quality assurance and quality control manager for appropriate actions.
Layout inspection plan – Implementation
The implement part of the layout inspection is conducted by preparation of layout inspection schedule for all the classifications of finished products being processed in the organization. The inspection team should carryout complete check of finished product at least once in quarter / as per customer requirements (The frequency of inspection are managed as per specified by customers) for complete dimensions and function inspection / testing as described by the customer in their drawings and keep records. During inspection process in case of any deviation observed by quality engineer should forward the head of department for taking necessary corrective measure to avoid future deviation and improve the process. The quality engineer identify deviation are on special characteristics as given in final products control plan, the matter should have discussed with head of department to related information decide immediate corrective actions.
EXAMPLES, SAMPLES & FORMATS
You would also like to read: