Safety inspection checklist points for Raw material storage area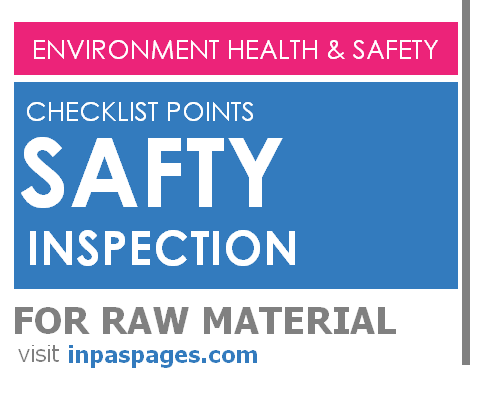 Are there any unwanted material lying on floor of raw material area, and same are at outside the gangway of processing manufacturing / material movement / storage area?

Do people wear appropriate PPE (Personal Protective Equipment)'s like safety Shoes, Hand gloves during process?

Is the material is stacked / stored at the specified height (Specified height should be required as per materials instruction by manufacturer / material safety data sheet) or more than that?

Are there any rotating equipment / rotating things without safety guard in machining area?

Is there any damage of Electrical appliances?

 Is there any loose wire or open connections within raw material storage area?

Is there any leakage of oil / grease coolant on floor?

Is the strength of slings / Ropes / any other supported material that used for material handling are sufficient? Records of Test certificate are available with department?

Is the condition of Rope / slings is satisfactory – Not too old OR damaged OR worn out? Are they periodically and jointly inspected with Maintenance Dept.? Or done by any external agency? Is there external agency provided certificate?

Is the Instructions for handling & Storage available? Are the same are followed?

Instruction of working with hazardous is there? Employees are following it or not?

Is Handling & disposal of Hazardous waste given to Authorized person?

Is crane or Lifts Examined once in last 6 months by authorized and competent agency? Evidence? Or as per laid down standards.

Are the loose metallic & plastic strips, plastic sheet and other packaging material are disposed off as per Standard?

Is entire area is clean without grease, Oil, chemical, Fumes, chemical Vapour? 

Is the material handling trolley is in good and safe working condition?

Is the material is Handled, stacked / stored / Preserved as per M.S.D.S. (Material safety data sheet)? Is a copy of M.S.D.S. (Material safety data sheet) available?  
Related Topics: