NEW EQUIPMENT, TOOLING, AND TEST EQUIPMENT CHECKLIST POINTS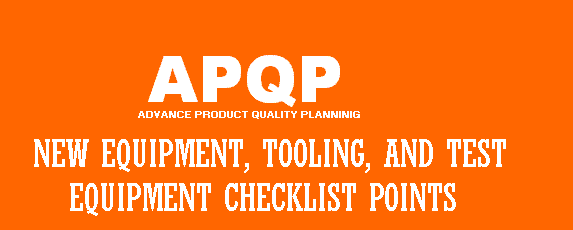 Does the design require:
New materials?
Quick change?
Volume fluctuations?
Mistake proofing?
Have lists been prepared identifying:
New equipment?
New tooling?
New test equipment?
Has acceptance criteria been agreed upon for:
New equipment?
New tooling?
New test equipment?
Will a preliminary capability study be conducted at the tooling and / or equipment manufacturer?
Has test equipment feasibility and accuracy been established?
Is a preventive maintenance plan complete for equipment and tooling?
Are setup instructions for new equipment and tooling complete and understandable?
Will capable gauges be available to run preliminary process capability studies at the equipment supplier's facility?
Will preliminary process capability studies be run at the processing plant?
Have process characteristics that affect special product characteristics been identified?
Were special product characteristics used in determining acceptance criteria?
Does the manufacturing equipment have sufficient capacity to handle forecasted production and service volumes?
Is testing capacity sufficient to provide adequate testing?
Related Topics: