Finished Product Storage checklist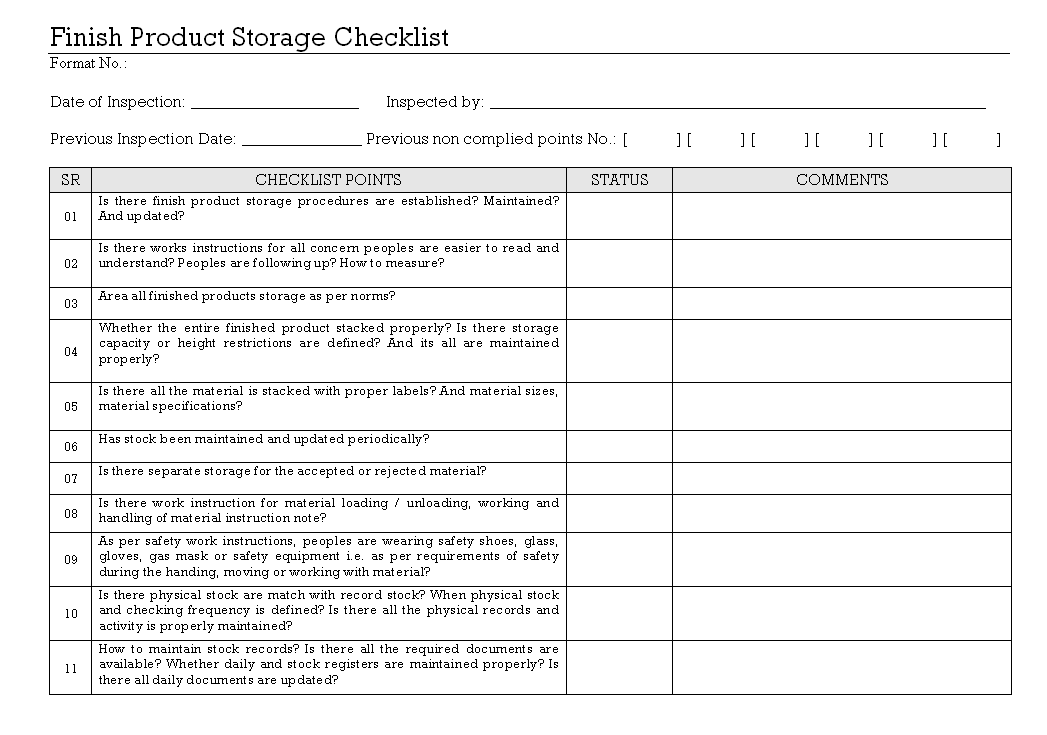 In the finished product storage audit, some basics are needs to followed by auditor when audit checklist is filling and observe the condition of storage area. All the finished product storage area is maintained by proper system whether auditor should verify the which issue system is adopted that is FIFO / LIFO is properly maintained and its records are implemented, and also needs to verify that all the materials are inputs with documents attached with properly tracking code or labels. In the storage area all finished product storage records are maintained all incoming, issues and current stock records whether all incoming materials recorded in inward register, outgoing materials recorded in issue register and remains in stock registers are maintained in line with system requirements.
Audit Checklist should be covered analysis of storage activities, inspection of materials and its concern certifications to ensure the product quality. In case of rejected materials records, storage areas, levels and tags are needs to verify during the audit, and also should mentioned in the checklist. The analysis of stock and its verification, inventory levels, physical stock checking should be maintained in stock and same the records are maintained, auditor should be verifying with checklist with actual condition. The finished product storage should have maintained separately are:
All stock with expiry dated materials are maintained separately
Each materials identification tag, manufacturing date, expiry date, batch label etc., displayed.
Material should be stacked in order to easier for moving, issue and re-stacking.
Records of each material, rack / stacking rack, material index, issue and storage system is properly in order of work instructions as well as standard procedures.
Storage of critical, self-life & other items in appropriate rack.
General finished product checklist points:
Is there finished product storage procedures are established? Maintained? And updated?
Is there works instructions for all concern peoples are easier to read and understand? Peoples are following up? How to measure?
Area all finished products storage as per norms?
Whether the entire finished product stacked properly? Is there storage capacity or height restrictions are defined? And it's all are maintained properly?
Is there all the material is stacked with proper labels? And material sizes, material specifications?
Has stock been maintained and updated periodically?
Is there separate storage for the accepted or rejected material?
Is there work instruction for material loading / unloading, working and handling of material instruction note?
As per safety work instructions, peoples are wearing safety shoes, glass, gloves, gas mask or safety equipment i.e. as per requirements of safety during the handing, moving or working with material?
Is there physical stock being match with record stock? When physical stock and checking frequency is defined? Is there all the physical records and activity is properly maintained?
How to maintain stock records? Are there all the required documents are available? Whether daily and stock registers are maintained properly? Are there all daily documents are updated?
EXAMPLES, SAMPLES & FORMATS
You would also like to read: