Sample Analysis Requisition Checklist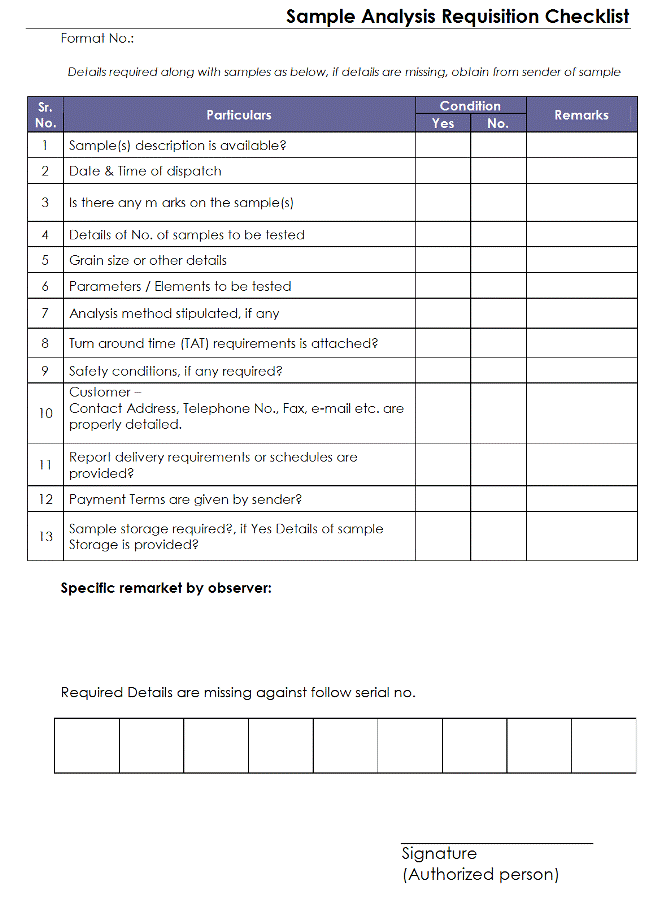 Standard operating systems are always recommending systematic working flow to eliminate errors & mistakes, ISO 17025 – international standard is for laboratory quality system supported standards that also required flow base system to ensure the customer satisfaction, off course as ultimate goal.
Sample Analysis requisition checklist is inspecting process for the required analysis of sample & along with given details to laboratory for the various testes, this checklist is checks the details are provided by sample sender or customer, all the required details are available with sample, customer had provided all the required details are used for laboratory internal used or maintain quality.
In case of any information are not available or still yet not provided by customer than, laboratory can ask for the details to customer for fill up the useful details can impact internal quality of laboratory system.
As usual, sample analysis requisition checklist for inspected with filling with yes or no, in case of no that details are captured from customer other wise go for the next level of testing. Observer also can special remarks that also indicate any special requirements form customer or observer's instruction or comments can be there in special remarks.
———————————– Download ———————————–
Download Sample Analysis Requisition Checklist format in Excel sheet
Sample Analysis Requisition checklist Description, Format, Sample, Template
———————————– Download ———————————–
Related Topics: