Document Control Audit points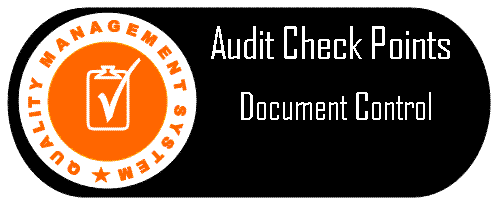 Are there quality policy & quality (company level, department objective) documented?

Quality manuals are available?

Operational procedures are documented?

Whether electronic documents, soft copies of documents are properly stored? Frequently backup are maintained?

Is the Quality manual & Quality procedures are addressing all relevant requirements and clauses as per quality standards?

Are the product / process / concern drawings, defined / required specification, work instructions, manuals, work / job orders, control plans, form / formats are controlled?

How to interactions & sequence between the processes of quality system is documented?  Is there process map, flow charts (Diagram) are designed, documented & controlled?

All the documents should be approved as directed by manuals, is there evidence? All the processes are reviewed & updated? After update re-approved?

All the documents having a revision levels?

What measures are implemented to ensure that relevant and current documents are available at points of use?

All document having unique identification numbers?

List of external origin are records? Records are evident?

When obsolete documents are retained, is it for a specific, stated reason? Are obsolete documents clearly marked to distinguish them from current revisions?

What other measures are implemented to prevent unintended use of obsolete documents?

Are the records sufficient to demonstrate product and process conformity, and the conformity and effectiveness of the quality management system and its implementation?
 RELATED TOPIC: