Measuring instrument / gauge rejection report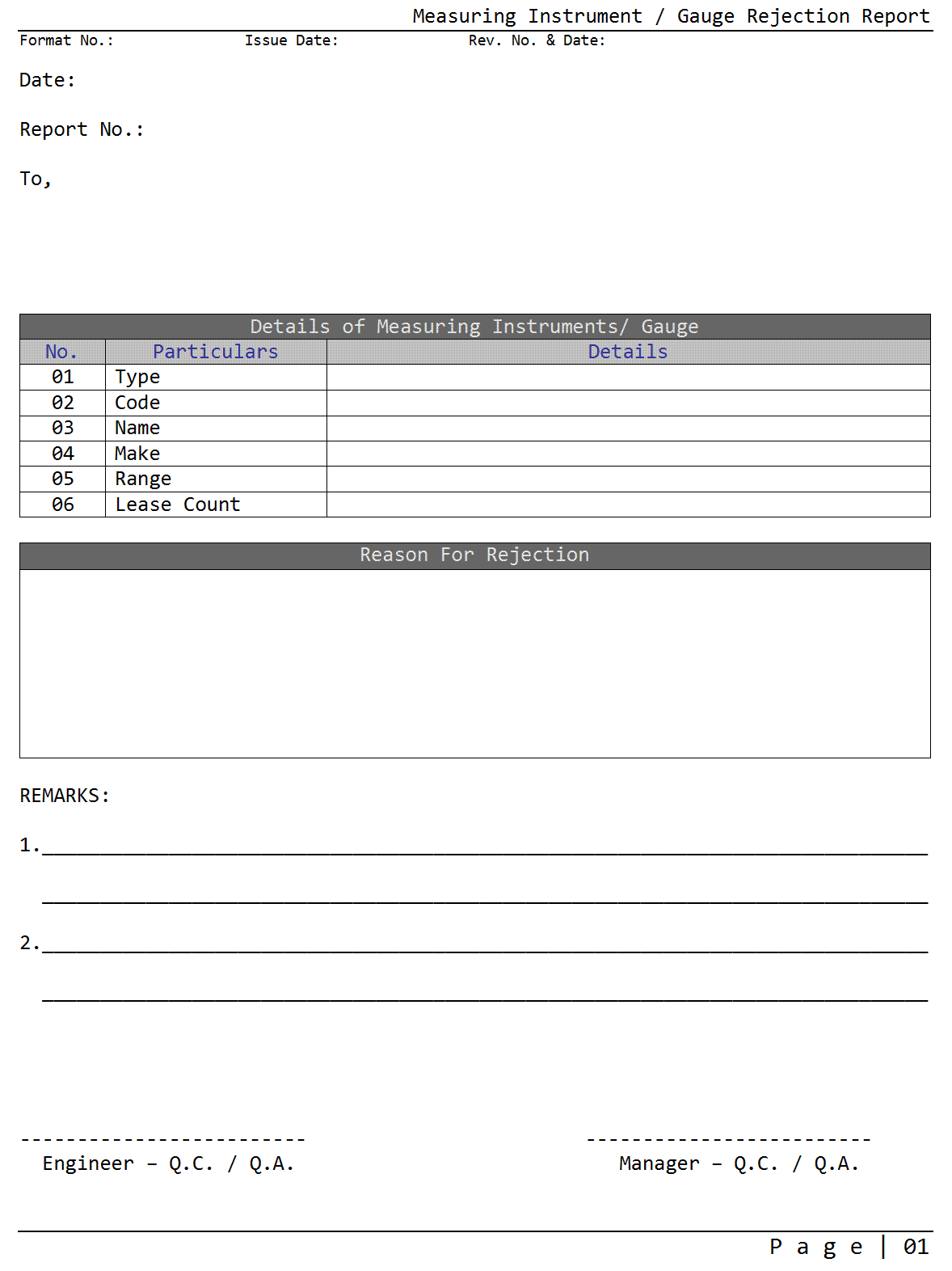 For testing instrument and gauges calibration is primary requirement periodically, during the calibration process some measuring instrument and gauges found faulty that immediately its should be remove from the instrument used and same will be report for the rejection note to confirm the measuring instrument or gauges are not passed from the acceptable criteria process hence need to remove to used as measuring process.
Measuring instrument / Gauges rejection report preparation need a field to ensure the reports comply the requirements of the rejection reporting to concern person can identify & understand the rejection instrument / gauges for the further actions, all required fields are as under:
Report No.
Details of measuring instrument / Gauges which is Type of measuring instrument or gauges, code are given on instrument, name of the measuring instrument / gauges, maker name, range is important for the understand for replace of instrument / gauges instead, lease count, its all basic requirements of measuring instrument / gauges.
Reason for rejection is base requirement of the report, on base of report and reason that identified during inspection / calibration of the measuring instrument / gauges, valid reason can need to replace / repair instrument / gauge.
Format of the Measuring instrument / Gauge Rejection Report is available for download here, after download you can edit, remove, modify any field as your requirement, and download links as below:
Measuring instrument / gauge rejection report Format in excel sheet format
Measuring instrument / gauge rejection report in word document format
Measuring instrument / gauge rejection report examples
Measuring instrument / gauge rejection report samples
Measuring instrument / gauge rejection report templates
Measuring instrument / gauge rejection report definition / description
Related Topics: