Project Planning Sheet
Foundation of the project is the planning, well planned, organized project stage can gives the success, and Project success is depends on planning, how the subjects are planned? How materials and manpower are planned for the projects all things are depends on the planning and its follow up system.
Project planning and its documents requirements is project planning sheet or project planning records, some basic fields are given as below for the reference or as an example of the project planning sheet:
Project Planning number – This number will unique for the project planning formats to easier for the tracking of each projects
Customer name – name of the customer, if the project is planned as per customer requirements, technical details of the projects are depends on customer requirements.
Date of project planned
Project Description
Project Planning
–         Project Stages – each stage of the project need to planned for the listing of working steps and easier for implementations.
–         Planned Date
–         Actual Date
–         Responsibility –for project stages person is accountable for the stage that all the reporting responsibility need to assign.
–         Design / Development Stages
Project – Head Notes
Sign off
To consider the requirements of the projects & its planning, here ready made format is given for the download, if the project requirements are not enough found in this format, after download its can possible to add new fields are requirements, this format is basic structure format for the use of general purpose and also can possible for any kind of projects, hence we tried to made format as general.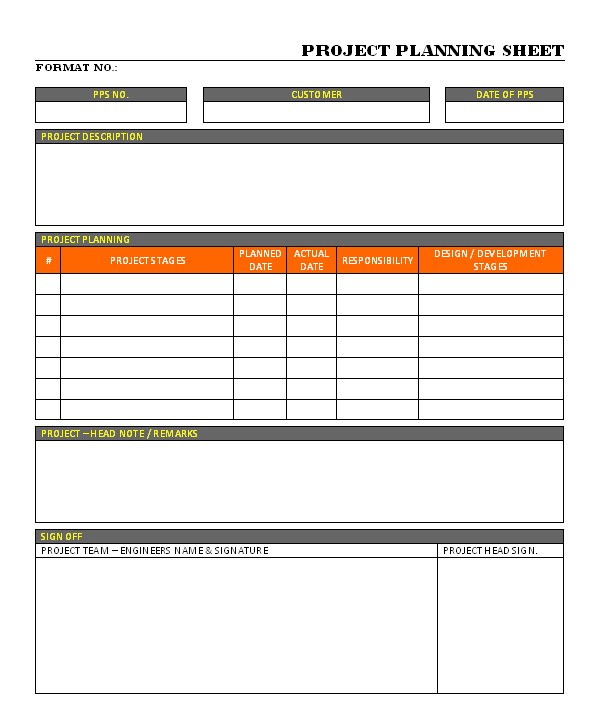 EXAMPLES, SAMPLES & FORMATS
You would also like to read: