Training Improvement plan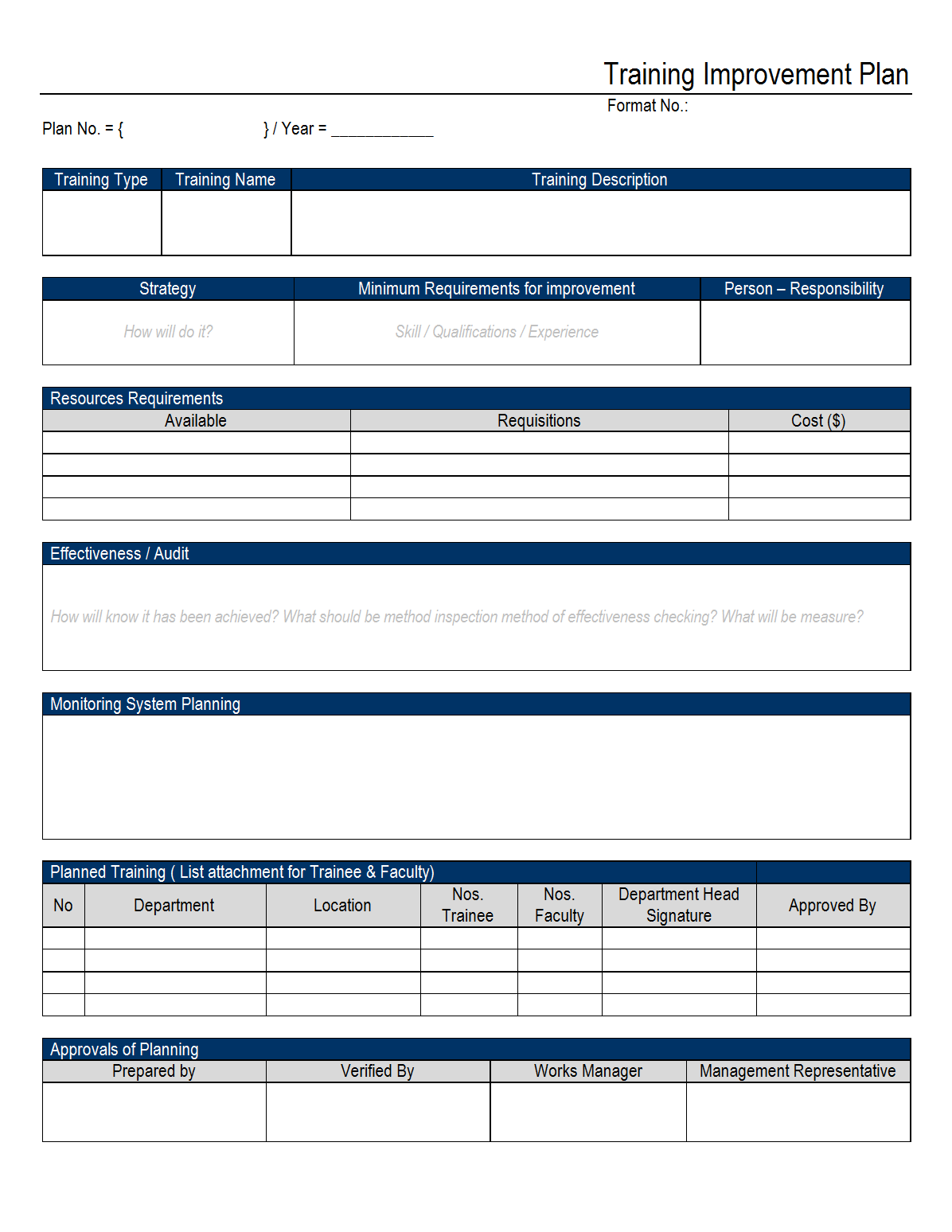 Improvement is needs of any internal system, if the quality management or health and safety, each system are need training in line with requirements of international standards, training is base requirements of the standards and internal management system for the enhance knowledge, skill development and compliance requirements of the internal management systems which is follow standard systems.
Training requirements and its improvement born proper planning to enhancement in productivity of trainee peoples and involved, for the training improvement basic foundation is the planning, training improvement plan is the finest solution for the understand requirements of the subjects and its effects on the work floor, finance and human behavior through routine works.
Training improvement plan Format / Template is designed for the proper planning of training sections, requirements & improvement project, basic fields are given as below:
Plan Number and year of training improvement plan is prepared
Training types / training name and training description
Strategy
Minimum Requirements for improvement
Person responsible for
Requirements of resource for improvement of training sections with available resources and required resources information with effected cost amount are also needs for costing.
Effective ness / Audit parts are used for to ensure that training planned is sufficient? What should be measures and method will be used for the effectiveness checking.
Monitoring system planning parts is very important that all the training sections, costing and other parts are planned here for monitoring, how & which parts are focuses for the monitoring, which methods and tools are used for the monitoring planned herein.
Planned training for trainee names list and faculty are participate for the upcoming training, in this parts is listing and information part.
Above all the information is for planning of the training and its improvements, when the actual training are conduct that the real verses planned information can possible to compare and what was the gap can be identify, in the next plan and its improvements is easier through it.
 EXAMPLES, SAMPLES & FORMATS
You would also like to read:
| IN SERVICE TRAINING REPORT | TRAINING CARD | NON TECHNICAL TRAINING PROPOSAL | PROCESS COMPETENCE TRAINING | INDIVIDUAL TRAINING RECORD | ORIENTATION TRAINING PROGRAM FORMAT | TRAINING NEEDS ANALYSIS | INITIAL TRAINING PLAN | SAFETY TRAINING PASS | ANNUAL TRAINING CALENDAR | TRAINING EFFECTIVENESS EVALUATION REPORT | TRAINING FEEDBACK FORM | TRAINING SUMMARY REPORT | BUDGET OF TRAINING PROGRAM / TIME (HOURS) | AUDIT TRAINING EVALUATION SHEET | TRAINING RECORD FORMAT | TRAINING NEED IDENTIFICATION FORMAT | TRAINING ATTENDANCE & EVALUATION REPORT FORMAT | CERTIFICATE OF PROJECT TRAINING SAMPLE | HOW TO CREATE INTERNAL AUDITOR TRAINING PROGRAM? | INDUCTION TRAINING PROGRAM |