APQP [ Advance Product Quality Planning ] Timing Chart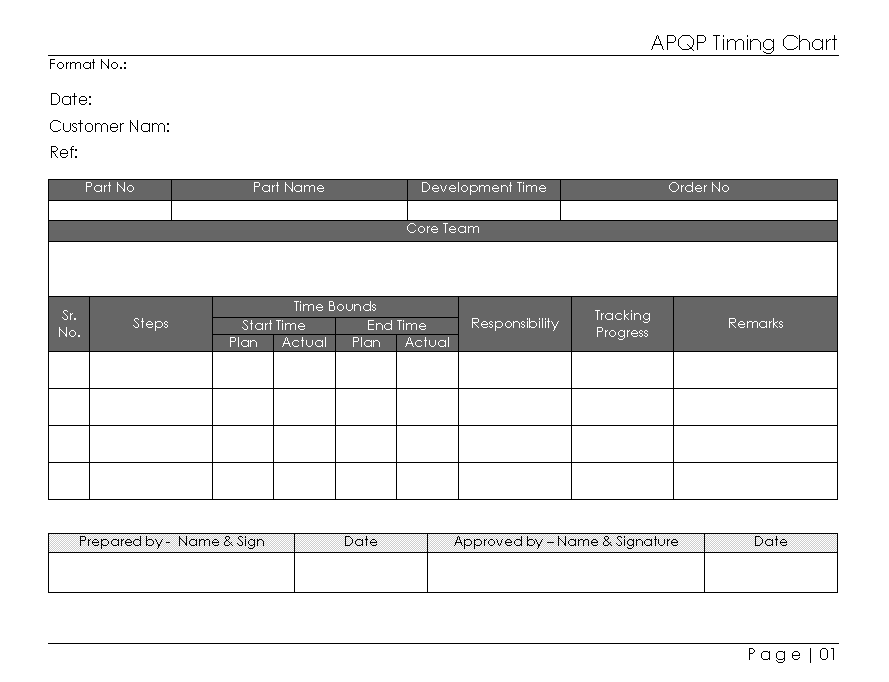 Advance product quality planning timing chart is monitoring evaluation of the project total time taken in activities, timing chart help to estimate duration of each activity and tracking each progress in expected time frame.
APQP time chart is very important requirements which we start to end of the quality planning which part are going to produce, APQP Time chart required fields are under:
customer name & its reference number
Part No. & Part name
development time
Order no
Steps ( Activity that need to monitoring, parts of advance product quality planning)
Time frame: start time / end times which need to monitor and compare with plan time and actual time for the both times.
Responsibility
Tracking Progress
APQP timing chart, time frame part is very important, there are in start time and end time estimation that is planned time against actual time can possible to compare to realize time frame for the APQP project.
Here are ready made format for APQP timing chart are available for download, after downloads you can edit, modify as your company requirements
—————————— Download ——————————
Download APQP Timing Chart in Word Document Format
APQP Timing frame format / template
—————————— Download ——————————
Related Topics: