PROCESS FLOW CHART CHECKLIST POINTS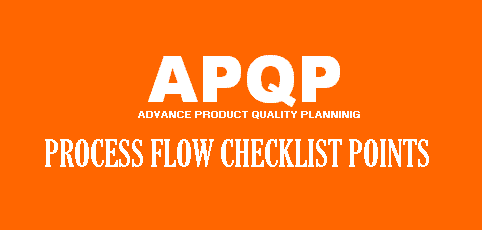 Does the flow chart illustrate the sequence of production and inspection stations?
Were all appropriate FMEA's (SFMEA, DFMEA) available and used as aids to develop the process flow chart?
Is the flow chart keyed to product and process checks in the control plan?
Does the flow chart describe how the product will move, i.e., roller conveyor, slide containers, etc.?
Has the pull system/optimization been considered for this process?
Have provisions been made to identify and inspect reworked product before being used?
Have potential quality problems due to handling and outside processing been identified and corrected?
Related Topics: