Machine Adjustment Form
An organization, machinery / equipment is primary requirements of the any manufacturing unit that need to timely inspection and its required parameters are checking and adjustment required to ensure the products quality  and parameters are maintained.
Machinery / equipment parameter adjustment form is the requirements of the production people that recording of each activities are taken by the engineers for the machinery parameters & adjustment to set up the machinery and its parts to maintain quality of product and minimize scrap or wastage in the manufacturing unit and individual machinery.
For the machinery adjustment form format, some fields those records as below:
Original parameter setting – machine original setting parameters / adjustment current setting are need to recording that before testing and success of the new adjustment there are possible to reset as default that original parameter / adjustment setting required to records.
Planned Parameters – machine engineers are thought for the adjustment of the machine that some planned as record to ensure the new planed adjustments will be work as requirements.
Adjusted setting – Machine adjustments are done as per planned & original parameters, adjustment current setting recording in this form. Adjustment setting is records to future requirements.
Reason for Adjustment setting – machine adjustment and its requirements are noted in this format, reason that each parameter changed are records should be must maintain. Each reason should be important inline with parameter changed.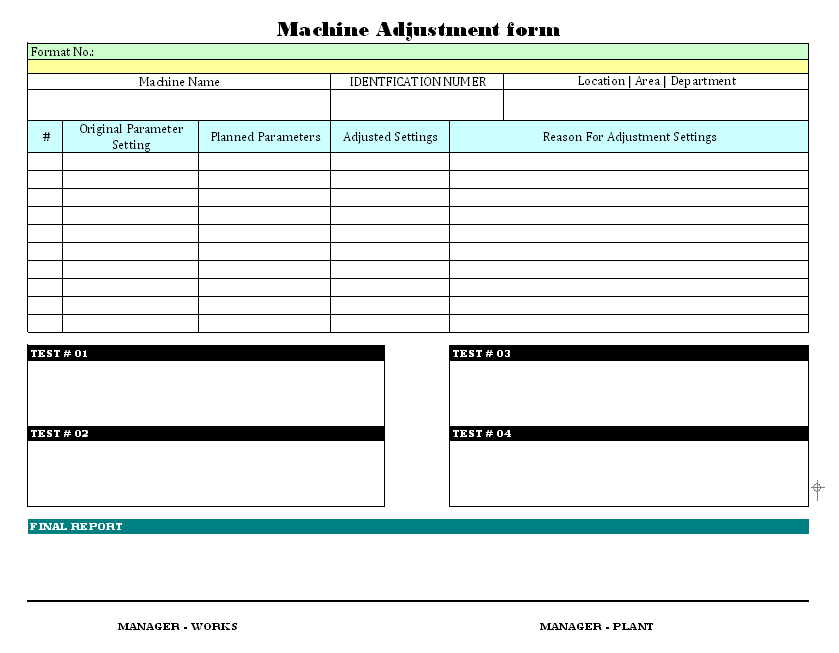 EXAMPLES, SAMPLES & FORMATS
You would also like to read: