Measure equipment information form
When any measurement equipment / device / instrument are procure that need to timely calibration and checking to identify any fault after some time, when the used of the equipment / devices are vast that need to frequently calibration, inspection to repair or recalibration the equipment / device for the smooth working conditions. reason that equipment / devices are used in measurements of the product that are depends the quality of the product on equipment / devices measurements, in case of the any wrong reading are measured that can be cause the defects of the quality of the product.
For the compliance of the measure equipment / devices tracking and controlling that required the documents / records are maintain to understand that which equipment / devices are on hand that are going for the due on calibration, on base of the records and documents, calibration / repairing process are conducted. Some basic requirement of the measure equipment information form as below:
In the section 1
Name of Device / Equipment
Device / Equipment code
measuring range
brand
Device serial Number
Calibration Date
Control range
Future calibration
Calibration made
Report number
Result of calibration
In the section 2
malfunction description
Malfunction date / time
Fault notification
responsible
checked
As see below two sections are defined as per requirements of the calibration recording that complete information are need to records to compliance of the regiments of calibration rules. In the first section that all concern information of the calibration are defined to understand the routine calibration and its activities are recording in the section one, in case of than any requirements are found that malfunction during the calibration, section two is used to record details of the malfunction description for the equipment / devices, on base of the records are all the information gives the knowledge that equipment / devices are in used or not.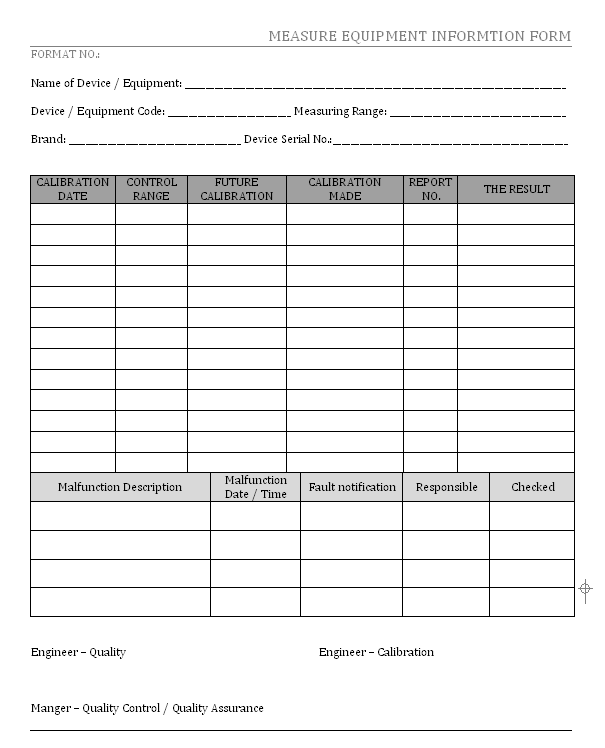 EXAMPLES, SAMPLES & FORMATS
You would also like to read: