Tools Maintenance log sheet
Maintenance is important part of the company, if the well planned, organized schedules, understanding of the machine parameters and correct procedures of the preventive maintenance can reduce drastically costing of the maintenance, in the some cases I personally see that after " Cleaning Lubrication inspection Tightening" Project is the similar of the preventive maintenance that dramatically given the full picture of the parts and machinery that against and against need replacement or repairing, not only identified but also given the full information of the root cause of the problem are raised, this is very memorable movement for the company who are focus on the maintenance and its activities.
I am sure if the company focus on the maintenance activities, mostly management ask to maintenance people why cost of machinery repairing increasing, but never try to understand the system is not supporting maintenance peoples who really want to preventive maintenance of the machine but some reason of production machinery free times, managers and supervisors weak awareness of machinery preventive maintenance are increasing maintenance cost. Hence the costing of the maintenance is not just responsibility of the maintenance people it's also for management team.
Here we are tried to covered tools maintenance log, in this format all the maintenance activities to concern tools maintained are tried to cover for the listing out all possible information of the tools maintenance. Basic fields for the format as below:
Details of Location
Tools number and name
Description of problems
Requester name and date
Repair date and name of repairer
Parts are used with costing
root cause of the problem
preventive action and effectiveness of CAPA
completion date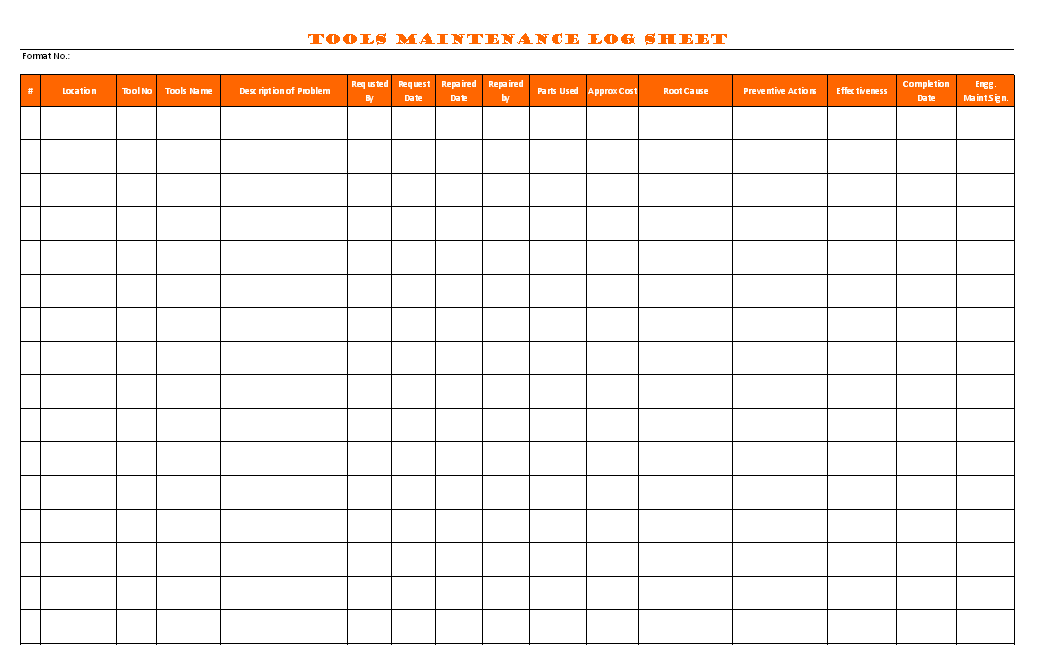 EXAMPLES, SAMPLES & FORMATS
You would also like to read: