Safety task analysis
Heavy engineering and heavy equipment manufacturing and Services Company need precautions of each stage to eliminate risky situation to eliminate or minimize risk level of incident / accident in organization. "SAFETY FIRST" is "Mantra" for the organizations that are aware of the safety and its precaution to provided safe environment for their employee.
Safety task analysis form is requirements at each stage, for as safety precautions, safety task analysis form provided details to all the required safety precaution can taken in advance to eliminate risk or minimize risk level for workmen as same tools or equipment requirement are also need to incorporate to workmen can understand which safety equipment are used to secure the working environment.
During the activities, in case of any unsafe condition or behavior found that eliminate, substitute process or equipment are need to used for minimize risk level at the place or activities, for the keep safety in working environment.
As the considering safety first, some basic required equipment are must like personal protective equipment, permit for any risk level is higher etc.. each and every, little or big thing, if the organization aware on each activities for the safety purpose than numbers of accident / incident can be eliminate or minimize the level for risk. In the engineering unit mostly accidents are happen that can be fetal too.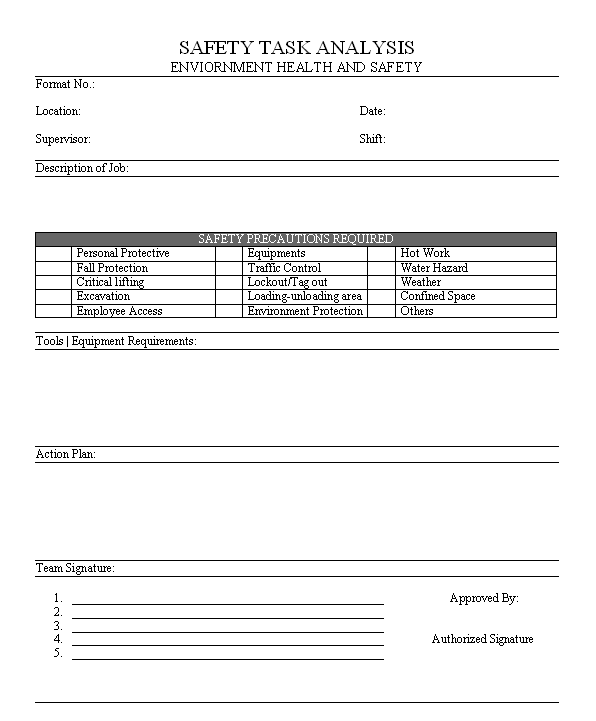 EXAMPLES, SAMPLES & FORMATS
You would also like to read:
| PROCESS SAFETY MANAGEMENT | SAFETY OFFICER INSPECTION CHECKLIST | POWER SYSTEM SAFETY INSPECTION | CONFINED SPACE ENTRY SAFETY TIPS | OFFICE SAFETY INSPECTION TIP | SAFETY EVALUATION FORM | FOOD SAFETY CHECKLIST POINTS | PROCESS SAFETY MANAGEMENT CHECKLIST | EQUIPMENT PLANNING AUDIT FOR FOOD SAFETY | SAFETY PRECAUTION FOR WORK PERMIT | CHEMICAL STORAGE ROOM SAFETY INSPECTION CHECKLIST | SAFETY INSPECTION WALK SHEET |