Scale Calibration Record Sheet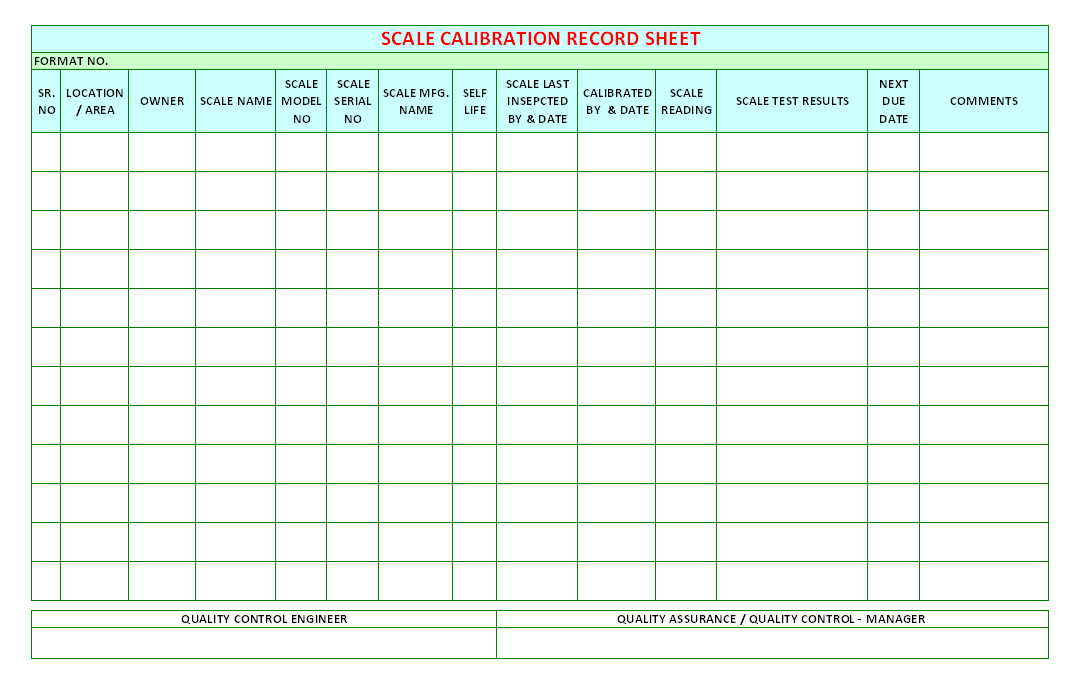 Location / Area – Location where scale are used.

Owner – owner of the scale.

Scale Name – Name of scale

Scales Model Number – Model number of scale is mentioned on sticker or hard writing on scale iron site.

Scales Serial Number – Scale serial number is unique number is mentioned on scale.

Scale manufacturer name – name of maker of the scale.

Self life – Self life of scale is very important, as per manufacturing self life is considered generally during calibration process, when the scale is cross the self life that generally note recommended for the long used.

Scale last inspected by & date – As per frequency defined, scale last inspection details are required.

Calibration by & Date – current calibration process done by and date of the calibration.

Scale readings – current scale reading calibration process.

Scale test result – result of the whole scaling and its testing, acceptable tolerances and actual tolerances etc.. Details are needed to incorporate.

Next Due date – As per frequency, manufacturing of scale and requirements of capacity calibration are frequency are maintained before due date.

Comments – if the calibration engineer need to point out some important point that can be used this column to recording the information which can used for the next process of inspection, calibration.
EXAMPLES, SAMPLES & FORMATS
You would also like to read: