Overhead Crane daily check sheet
If the manufacturing industry are producing engineering supply product that heavy equipment, machinery and material too are heavy and not possible to move once to second destination, at the movement overhead crane is blessing to easier move the material or machinery as requirement of the management. The machinery and other parts are very heavy that impossible to move by humans, hence overhead crane can reduce burden to re-structures plant if the needs.
Overhead crane are used round o clock in plant are for the material movement, hence there much possibility to parts are depressed in time frame, the maintenance team having the challenging job to not effect the production and in between time of the breaks all the works are need to complete of crane, this fundamental are showing in most industry due to improvement in productivity of machinery. Crane's regular basic / weekly inspection, preventive maintenance and other cleaning lubrication inspection and tightening type's activities are necessary for crane life and security of human too. Mostly crane accidents are happen due to unmannered inspection frequency.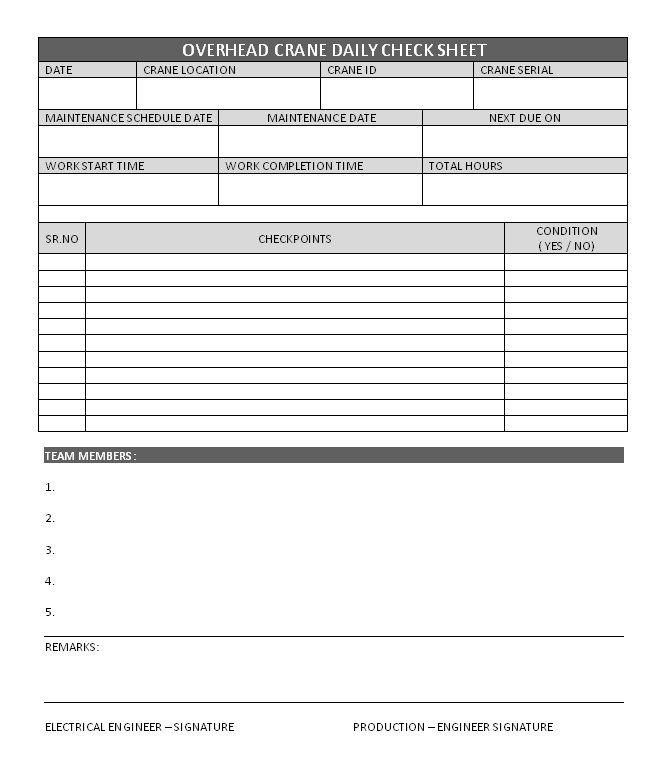 EXAMPLES, SAMPLES & FORMATS
You would also like to read: