Process validation format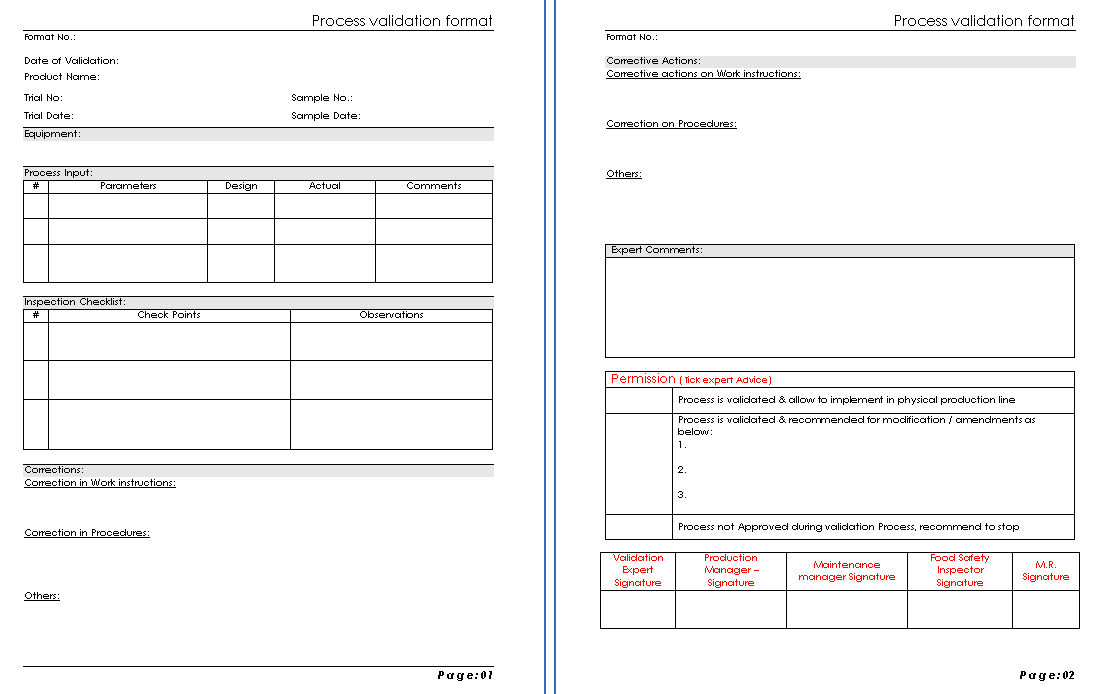 In the manufacturing unit its processes is very important to concern product quality and its improvement, if the processes mistake can create huge product scrap and its waste that financial losses and also can possible affect the quality of product as result losses of customers.
How to know processes is sufficient for product?
Very important think is, having the question how the process is identify for the quality sufficiency for improvement. It important to checking of the each stage of process that minor leakage can be create scrap or losses, for the process inspection is validation is biggest part to verify the process is sufficient, as below point help to enhance the validation process inputs:
Process inputs: Check whether process inputs, process parameters as per drawings and its realization of product and improvements against actual situation of the process inputs. Drawing is the primary input in the process and also party drawing is independent process as well.
Inspection of the process stages wise and steps that taken in process, inspection checklist is help to inspect the each activities, and brain storming is help in the critical activities inputs. Inspection check list is format that help to find out each activities and cover the stage wise intervals & leakages.
On base of the process input and inspecting activities of process, in case of any non conformity found that correction and  corrective action is taken by concern person or department that affect the real process diagram.
In the whole process verification, in case of any suggestions, comments of unfair found that process validation expert can note the summary of it for the support the path of improvement in processes and it activities.
EXAMPLES, SAMPLES & FORMATS
You would also like to read:
| PROCESS SAFETY MANAGEMENT CHECKLIST | PROCESS VERIFICATION ANALYSIS | PROCESS EVALUATION AND CONTROL | PROCESS REALIZATION AUDIT POINTS | IN PROCESS INSPECTION FORM | PROCESS CONSUMABLES REORDER LEVEL FORMAT |  PROCESS FMEA CHECKLIST | SPECIAL PROCESS VALIDATION CRITERIA PLAN | STATISTICAL PROCESS CONTROL PLANNING | PROCESS FLOW CHART CHECKLIST POINTS | WHAT IS PROCESS ANALYSIS? | STATISTICAL PROCESS CONTROL (SPC) STUDY PLAN | PROCESS ASSESSMENT WORKSHEET FORM FORMAT | APQP PROCESS | PROCESS MAPPING | PROCESS FLOW CHART | PROCESS CHANGE REVIEW CHECKLIST |