Process Verification analysis
In manufacturing unit, there are too many products & process may locate to finalize product through various processes, product future and it touching is depends on processes should be mistake proof, smooth and reliable, but how to know the processes are in manufacturing unit that'll are reliable? The finest solution is that analyze all processes through verification individually. Process verification analysis help to identify process reliability, cost effects, it find out the mistakes / trouble that reduce the productivity, effectiveness and cost concern.
Process verification analysis determines mistake proof process through minimize risk, reduction in costing and enhance reliability by analysis and modification in process as flexible for product processes, for the recording the activities of process verification as below:
Process name
Process Description
Process history
customer complaints
scrap from process
rework
method of verification
out put of verification
verification & cost effect
Process FMEA inspection
evaluation records / note
Process control / measurement of controlling
quality control process evaluation
verification records
Requirements of process verification analysis report & its records, verified during process verification analysis records are handle this report is evidence & records the activities of process verification analysis. Each process verification analysis records should be maintained separately to identification and improvement further in process.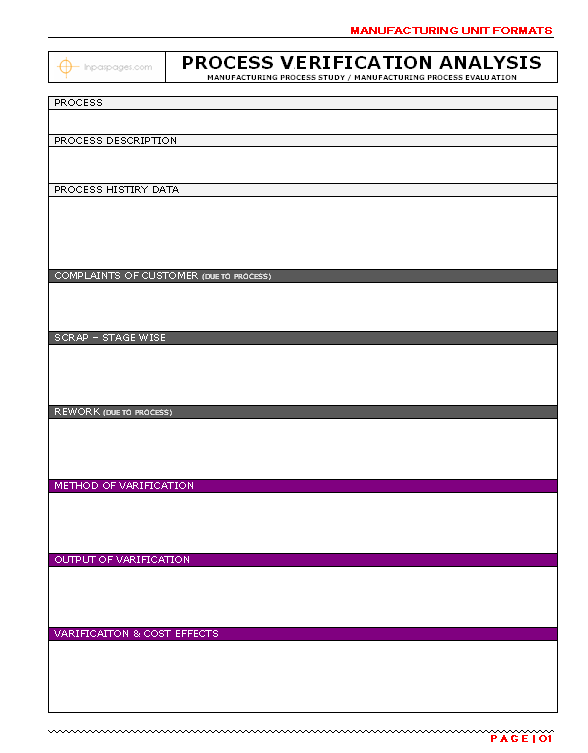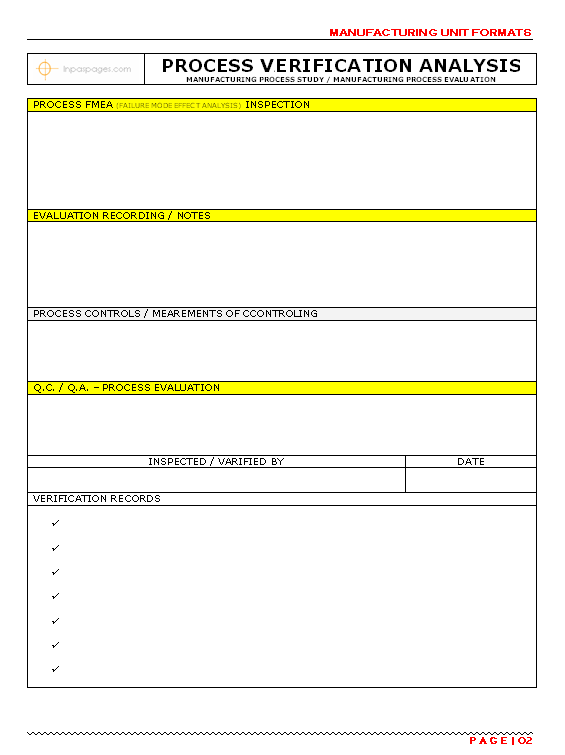 EXAMPLES, SAMPLES & FORMATS
You would also like to read:
| WHAT IS PROCESS ANALYSIS? | PROCESS EVALUATION AND CONTROL | PROCESS REALIZATION AUDIT POINTS | IN PROCESS INSPECTION FORM | PROCESS CONSUMABLES REORDER LEVEL FORMAT | GAP ANALYSIS FOR MANUFACTURING PROCESS | PROCESS FMEA CHECKLIST | SPECIAL PROCESS VALIDATION CRITERIA PLAN | SEQUENCE AND INTERACTION OF PROCESSES | STATISTICAL PROCESS CONTROL PLANNING | PROCESS FLOW CHART CHECKLIST POINTS | PRODUCT/PROCESS QUALITY CHECKLIST POINTS | PROCESS ASSESSMENT WORKSHEET FORM FORMAT | PROCESS VALIDATION / RE-VALIDATION STUDY | PROCESS MAPPING | PROCESS FLOW CHART |